Inside the Dugout: 2nd All Star Ballot
Last Modified

6/29/2005 12:56 AM

Story Summary

Bobby Abreu has made it to the top of the outfield list. Ahead of Edmonds and Beltran. Empty numbers huh folks? Okay, we won't mention the fly ball from the Mets game last night.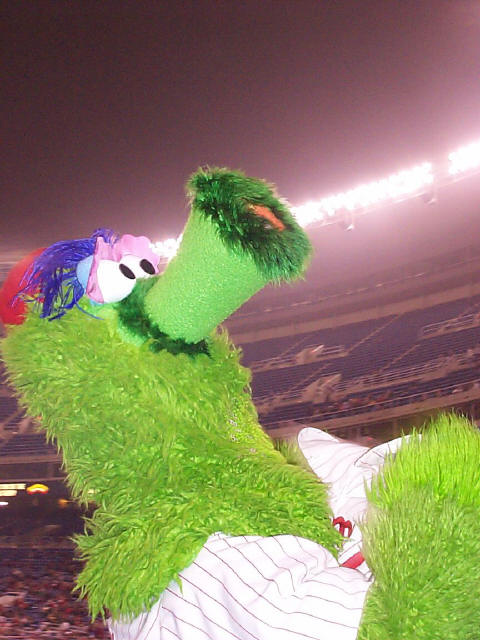 Bobby Abreu has made it to the top of the outfield list. Yeah, ahead of Jim Edmonds and Carlos Beltran. Ballot stuffing added something like 465, 000 votes his way. It helped that Citizens Bank Park was filled with out of towners last week. I watched a Red Sox fan with FULL mullet, posting 25 ballots on Saturday. You look out on the field and see Abreu and Utley for the first time. It makes it easy to vote for those guys, doesn't it.
Speaking of Utley and Burrell, both have moved up the ranks, so has Thome. Thome despite having a less than spectacular season is 4th voting in first place. Burrell is a respectable 7th in the Outfield. But our boy Chase utley has moved into 5th place behind Craig Biggio, who according to Bill James should be in the hall of fame! I suppose it helps getting plunked every 3rd at bat. Biggio is currently tied with DON BAYLOR for most times being hit by a pitch. Exciting isn't it?
Early this month, we posted our first ballot. Check it out. Not much change, huh?
MLB moves the vote from the stadiums to online. Who are you voting for? Chase Utley and Pat Burrell could use some more help.
| American | National |
| --- | --- |
| First Base: M. Teixeira, TEX | First Base: D. Lee, CHC |
| Second Base: B. Roberts, BAL | Second Base: C. Utley, PHI |
| Third Base: A. Rodriguez, NYY | Third Base: A. Ramirez, CHC |
| Shortstop: M. Tejada, BAL | Shortstop: F. Lopez, CIN |
| Catcher: J. Posada, NYY | Catcher: M. Barrett, CHC |
| Outfielder: H. Matsui, NYY | Outfielder: B. Abreu, PHI |
| Outfielder: M. Ramirez, BOS | Outfielder: P. Burrell, PHI |
| Outfielder: G. Sheffield, NYY | Outfielder: C. Lee, MIL |
| DH: D. Ortiz, BOS | NO DH in NL |
---
---
TAGS: