Phillies Preview: Top 5 Reasons to Be Excited!!!!
Last Modified

4/2/2006 9:20 PM

Story Summary

Because the baseball season is so long, you need some things to help you get excited about the team over a long haul. HERE are 5 things that will help keep your enthusiasm.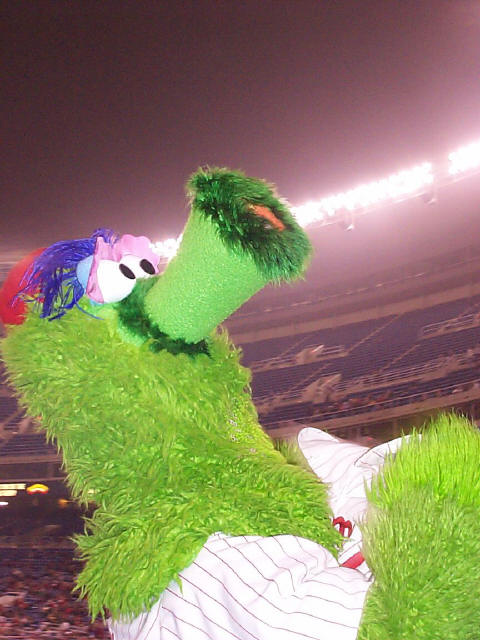 I know it's in the Philadelphia fans' nature to be wary of an upcoming baseball season. Most of the problems with getting excited about a baseball season for most people, is that they don't completely understand the "marathon" nature of the sport.
The best way to understand and follow a baseball season is to compare it to football. Football has a 16 game regular season. Baseball is 162. So the significance of ONE baseball season is roughly 10 games for every ONE football game. That sounds about right. For our purposes here at Philly Sports HQ, each week we will follow the Phillies every Sunday night. This makes a lot of sense as we have a Sunday ticket plan and so have our heads in tune with baseball EVERY Sunday.
So remember it's a marathon. Don't panic over every individual loss. Even a 2 or 3 game losing streak is okay. Look at the standings and watch how they are doing over the LAST 10 games. And take a look out or Phillies Weekly in our Inside the Dugout section. And you will be able to monitor the progress.
So to help you get excited, here are Five things that should make you excited about the upcoming season:
Ryan Howard
The Rookie of the Year for 2005, only had 28 at bats before July 1 last year. And tore up the National League. Will the dreaded Sophomore Slump happen? I don't think so, Howard had a great spring. Coming into the last exhibition game he was hitting .329 with 10 HR and 20 RBI. He added a homer and 3 RBIs today. His homer was a MAMMOTH shot deep to the steps leading up to the TOP CENTERFIELD bullpen. My guess is, it won't be the last shot hit there this season.
Gavin Floyd and Ryan Madson anchor the staff
Pat Gillick has proven he's not afraid to be controversial or make a stand. The 2 of his top 3 pitching prospects (the other Cole Hamels) have made it to the starting rotation and it sounds about right. I think Gillick is old school and thinks you need to learn how to pitch by pitching. Instead of being coddled in the minors. Jim Eisenreich was on Jody Mac's show this week and he seems to think pitchers are rushed into the big leagues and don't learn how to pitch. I think both Floyd and Madson were moved along at the correct pace. But now it's time to show what they can do. Ryan Madson pitched great today. His Strikes to Balls ratio wasn't great early on, but finished at a very nice 47-27 after pitching 5 scoreless innings in his final Spring Start. Gavin Floyd got knocked around a little yesterday but the wind was blowing out, so it wasn't that great, but he still finished the spring 4-0 3.16 (his era was at 2.08 coming into yesterday's game). I'll take a 3.16 any day. Forget about Lieber, Myers and Lidle. Okay, don't. But they will combine to win you about 45 games. I think you will get VERY close to another 30 games from these two. And if that happens, well... LOOK OUT.
Chase Utley
What can I say about Chase Utley. I just love the way this guy plays. But he's the true key to our success. He's the guy that 10 years from now, you will say, he was the leader of all those championship teams. If Derek Jeter personifies the NY Yankees, thenthe person to personify the Phillies is Chase Utley. I know he's young and has a lot to learn. But if Bell and Rowand can mentor him with how to lead a team during a championship run, (Note: all you Bell bashers, BELL does WAY more on the field to help than what you think he does to hurt.) I think you will see what this team can truly become. And Chase will become the true face of this team. And hey, why can't we have our own Jeter?
The Streak
Maybe Jimmy Rollins becomes our Jeter? He's no longer a young pup. He plays as hard as Jeter. He's a better fielder than Jeter. They play the same position. And I'm pretty sure he can dance better than Jeter. And no one WORKS harder [Subscription req'd]than Jimmy Rollins. But what we should all be looking forward to is seeing how long Jimmy Rollins can keep his streak alive. As you know, he finished last year at 36 games. And even though he went 0 for 3 today in the exhibition game, the streak counter doesn't start unless he gets a hit tomorrow. It's not easy to get a hit in 36 games. Can J-Rol do it? I think he can. He says that it helped that the team was winning. But in many ways they were winning because of the streak. It could ALL end tomorrow. And as my Dad said today, if it has to end, let it be on the first day. Enjoy the ride folks! Because it's once in a lifetime! And think about this, one thing baseball loves is a distraction from it's real problems. OVER TIME Home run chases have erased labor problems and other controversies. Unfortunately, that won't work during a steroid investigation. But breaking the unbreakable? That my friends could change everything.
Conlin picked us to win the Wild Card
If you remember the 1993 season at all. That year coming off a last place finish most baseball experts didn't expect much from the Bearded Beer Bellies. But Conlin did. He thought things would fall into place and picked them to win the NL East. That team came out of the gate like a bat out of hell and gave this city one of the most exciting baseball rides ever. His prediction for this team? 92 wins and a Wild Card.
My Prediction
Now, that we know Bill Conlin's prediction, what's mine? First it must be noted, I'm never right. My mother and I used to put in an envelope what we thought the record of the Phillies were going to be. We did this for a couple of seasons. We don't do it anymore. And now with the web-site, I guess hiding the prediction doesn't make sense. So here it is... The Phillies will win 93 games. That's right... 93 games. And earn a spot in the playoffs. So it's time... LET'S GET EXCITED!!!!
HammLinks: Phillies Blogs
Philadelphia is home to the finest blogging in the nation, you can see that over at PhillyFuture.org But the Phillies have a loyal blogging fan base. Get to know these guys. If you see a blog that should be here, e-mail me at PhillySportsHQ at hammradio.com. If you are an owner of this blog, feel free to link to HammRadio.com or coming soon, PhillySportsHQ.com
Send us an e-mail if these links are out of date. We will try and update the order, based on posting frequency and quality.
Other Baseball Links and Blogs
---
---
TAGS: