2005 Week 1 -- Eagles fall to Falcons
Last Modified

9/13/2005 6:15 AM

Story Summary

Donovan McNabb and Terrell Owens extinguish controversy but still lose in T.O.'s hometown. Vick contained but Dunn was not.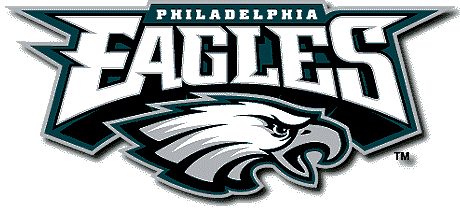 Eagles fall to Falcons, 14-10
Vick and Dunn exact Revenge on Birds
---
This game was going to be all about Donovan McNabb and Terrell Owens.? The spotlight was on.? Would they coexist?? Would there be a repeat of the debacle in Pittsburgh?? Well, there was, um, nothing.? No real drama between the two.? Donovan was firing to T.O. all day long.? T.O. got his catches.? He just didn't get into the End Zone.? Sure Donovan threw some knuckleballs and was missing Owens as much as he was hitting him.? But will that cause a rift?? I don't know, because Owens was not talking.? He left without talking to any reporters.?
As bad as Donovan played, the Eagles Run Defense was just as bad.? Did the Birds miss Corey Simon?? I suppose.? But more importantly they missed Jerome Trotter, who was thrown out of the game before the darn thing started.? Can you believe that?? Trotter got into a fight with a Nickelback, and was ejected.? You have to keep your emotions in check, but I gotta say the NFL has to understand the emotions of the game better.? This isn't the NBA.? 2 guys in pads and helmets get into a fight aren't going to hurt each other.? But I tell you this, #21 of the Falcons better watch out.? He took someone's helmet and threw it to the ground.? If we meet again, believe me the Birds WILL remember that.? But he got the last laugh tonight, because it was Trotter's ejection that caused the MOST damage to the Eagles tonight.

The Complete History
Philadelphia Eagles

2003 Eagles Yearbook.


2004 Eagles Yearbook
Now on to the recap: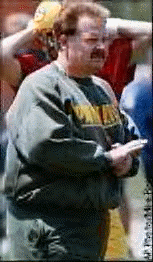 Andy Reid Watch
Andy Reid's team seemed unprepared for the unrelenting blitz from the Falcons.? The Falcons seemed to be prepared for any snap count by McNabb.? McNabb never changed cadence, in fact most times snapping on one which allowed the blitz to overrun the Offensive Line.? Reid only called one deep ball to Owens which resulted in a McNabb interception.? Perhaps it was the rush?? I don't know.?
Jim Johnson however seemed to correct some of the running problems which were causing most of the havoc in the first half. And they did a decent job of containing Vick.? The Falcons won despite Vick.? This game was winnable.? And some of the blame has to go to the coaches on this one. Times Yours.
| Coach | Regular Season | Playoffs | Overall |
| --- | --- | --- | --- |
| Andy Reid | 64-33 (.660) | 7-5 (.583) | 71-38 (.651) |
| Greasy Neale | 63-43-5 (.568) | 3-1 (.750) | 66-44-5 (.574) |
| Dick Vermeil | 54-47 (.535) | 3-4 (.429) | 57-51 (.528) |
Kotite-esque
Sub-Par
Servicable
PlayoffBound
Excellence
?
?
?
?
?
?
?
?
?
?
Here's the Breakdown:
| | | | | | |
| --- | --- | --- | --- | --- | --- |
| | 1 | 2 | 3 | 4 | F |
| EAGLES | 0 | 7 | 0 | 3 | 10 |
| Falcons | 14 | 0 | 0 | 0 | 14 |

NFL Equipment Philadelphia Eagles Terrell Owens Authentic White Jersey

HOAGIES -- Stars of the Game
FS - Brian Dawkins -- Dawkins was all over the place tonight, getting one interception, disrupting Vick with 2 sacks, defending 2 passes, one which prevented an Alge Crumpler touchdown.? On the VERY Next play Dawkin sacks Vick and forces a fumble.?
WR - Terrell Owens -- Solid play from Owens tonight, 7 catches for 112 yards.? While his longest was only 23 yards, he had a couple of catches with significant RAC.? He was played pretty tough by Atlanta's DeAngelo Hall, who halled in an interception tonight.? Despite the tough play Owens had a nice night.? However, no TDs.? No Deep bombs. Save for the pass that Hall intercepted.? Despite all the drama, Owens looked every much the All-Pro we expect him to be.
RB - Brian Westbrook -- Another productive night from Westbrook.? You gotta pay this guy right?? 111 All Purpose yards including 1 Touchdown Reception.? The guy is dangerous.? The Eagles running game was fairly stunted early on, losing yardage on his first couple runs.? The guy is a player.? Pay him.
KRIMPETS -- Soft players of the Game.
QB - Donovan McNabb?-- Erratic, off, knuckle-baller, stupid.? Whatever you want to call him, but Donovan looked horrible tonight. And as he goes, so does the rest of the team.? Donovan made some poor decisions tonight, his 2 fumbles were direct results of terrible ball protection.? His one interception came on the devastating hit he received.? Helmet directly to chest.? If a guy leads with a helmet like that, he should either be penalized or have his neck broken. But he shouldn't get away with such a cheap shot.? The league really has to look into it.? On the two fumbles, Donovan chose to hold onto the ball for nearly 8 or 9 seconds before getting hit from behind on the other fumble, he threw a swing pass behind Westbrook, which became a lateral.? Unacceptable.
K - David Akers?-- Akers left 6 points in the Georgia Dome.? Normally automatic, Akers shanked 2 49 yarders before finally connecting on a 44 yard field goal attempt in the fourth quarter.? The usually sure-footed kicker, pretty much cost us the game.
Line Play?-- Both the Offensive and Defensive Lines came up very small tonight.? VERY small.
---
Keep an Eye on'em:
DB - Roderick Hood -- I usually leave this spot for rookies, but Rod Hood is still a young enough player to be mentioned here.? He was a special teams defensive standout.? Making 3 tackles on Special Teams, adding another 2 in defense.? Unfortunately he only averaged 16 yards per kickoff return, which is just not good enough.
Running Numbers -- Key Stats
6 -- That's the number of turnovers that Donovan has had in his last 2 games (Super Bowl v. Patriots, tonight v. Falcons.)
2-5 -- Andy Reid struggles out of the gate.? Losing for the 5th time on opening day.
51 -- Total Rushing Yards tonight.? Lamar Gordon was not much better than Westbrook, but at least he changed the pace right?? And was he wearing Ryan Moates number?
?
Cheesesteaks -- Key Plays
Jeremiah Trotter was thrown out of the game for getting into a scuffle before the game even started.? The Eagles proceeded to give up like 200 yards rushing.? Was that the difference?? Perhaps all that there was needed.
Brian Dawkins kept the game close in the 4th Quarter with a huge pass defense agianst Alge Crumpler, then on the very next play sacking Vick causing a Fumble.? That turn around kept the Eagles in the game.
Andy Reid called timeout on the biggest play of the 4th quarter, 4th down and 10 to go.? Donovan throws complete to Westbrook who falls 2 yards short of the first down. BUT WAIT... Andy Reid has called time out.? They can run the play over!? Incomplete to Owens.? WHAT would have happened had they made that first down??? OH MAN... OH MAN!
Wooder Ice -- Licks of the Game
Donovan McNabb ?was hit pretty hard by the Falcons Chad Lavalais, who led with his helmet, right at McNabb's sternum.? This very well could have been the cause of #5's inaccuracy issues.
---
---
Eagles Blogs and Fan Sites
---
TAGS: