Super Bowl: Pats Seal Dynasty, Eagles fall just 3 points short, 24-21
Last Modified

2/14/2005 11:30 PM

Story Summary

The Eagles made a valiant effort losing to the 3 time Super Bowl champs. The Eagles really could have won this game. Here's how we run the game down.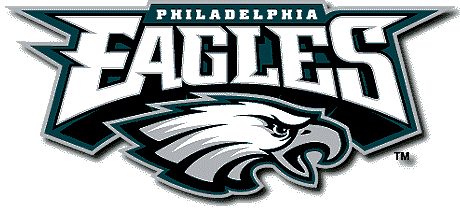 Pats Lay Claim To Dynasty With 3rd SuperBowl Win
Eagles Quest Falls 3 points Short, 24-21
---
After keeping the game tied for 3 quarters, the Eagles couldn't contain the Patriots offense contained in the 4th Quarter and the better team walked away with the victory. However, this was a very winnable game. The Patriots were vulnerable. The Eagles offense sputtered early and costly turnovers proved to be the difference. A couple of plays could have made the difference between a loss and a golden victory.
While the Patriots offense couldn't ultimately be stopped, the Eagles Defense pressed hard most of the game and really gave Brady some fits. Despite great play by Dawkins, Lewis and Trotter, Deion Branch ran all over the Birds. The Eagles defensed the run well, but ultimately Brady found Deion Branch everywhere. Both teams found the end zone 3 times. Just a field goal separated the two teams.
In the final analysis the better team, but the Eagles could have won this game. I will go to bed for the next few nights thinking about this game, knowing that we had the champs on the ropes. And we could have won this game.
| | |
| --- | --- |
| The Complete History the Philadelphia Eagles | 2003 Eagles Yearbook. |
Now on to the recap: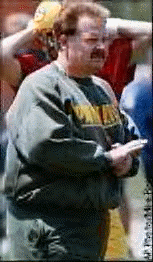 Andy Reid Watch
This game was very important for the Andy Reid legacy. Going into the playoffs, Andy decided to rest his starters, so that they could be healthy for the playoff run. It seemed to pay off, but maybe playing those last 2 games like they were playoff games, maybe that would have given the Eagles a little better nerves of steel. And maybe they could have picked up a no huddle offense. I think the Eagles game planned well. The run was eaten up by the Patriots, but I think just called the wrong Runs. And why isn't Donovan being used as a runner. I think it keeps the linebackers honest. And it's a mistake not to use that talent.
Andy Reid has a .657 overall coaching record, solidifying his stance as the greatest coach in Eagles' history for sure. But his status compared to the rest of the coaches of his generation, is marred by losing in the playoffs the last 5 years. It is just a matter of time before we say the Eagles and Andy Reid are Super Bowl winners. And until then, Andy Reid, is just second best.
| Coach | Regular Season | Playoffs | Overall |
| --- | --- | --- | --- |
| Andy Reid | 64-32 (.667) | 7-5 (.583) | 71-37 (.657) |
| Greasy Neale | 63-43-5 (.568) | 3-1 (.750) | 66-44-5 (.574) |
| Dick Vermeil | 54-47 (.535) | 3-4 (.429) | 57-51 (.528) |
Kotite-esque
Sub-Par
Servicable
PlayoffBound
Excellence
?
?
?
?
?
?
?
?
Here's the Breakdown:
| | | | |
| --- | --- | --- | --- |
| Place | Opponent | Oppt's Record | Network |
| All-Tell Stadium, Jacksonville, FL | New England Patriots | 14-2-0 (regular season) 3-0 playoffs | FOX |
| TIME | DATE | Philly Coverage | Philly Radio |
| 6:30 (EST) | February 6, 2005 | FOX 29 | 94.1 WYSP |
| NFL Site | Web Action | Eagles Site | Opponents Site |
| NFL Site | Web Action | Eagles | Patriots |
| | | | | | |
| --- | --- | --- | --- | --- | --- |
| | 1 | 2 | 3 | 4 | F |
| Patriots | 0 | 7 | 7 | 10 | 24 |
| EAGLES | 0 | 7 | 7 | 7 | 21 |

NFL Equipment Philadelphia Eagles Terrell Owens Authentic White Jersey

HOAGIES -- Stars of the Game
WR - Terrell Owens-- 9 catches 122 yards. Owens made his presence felt from the start of the game when the crowd filled with Eagles fans saw Owens run to his starting position. He did look like he was a step slower, he didn't have the power he normally has. But he could cut and run and catch. Boy could he catch.
QB - Donovan McNabb -- Donovan threaded the needle today on some amazing passes. He got help from Greg Lewis, Todd Pinkston, L.J. Smith, Westbrook and Owens and really had a heck of game. Unfortunately, he was just not good enough. But he will learn from this experience and look out NFL.
MLB - Jeremiah Trotter-- Trotter played a great game today, and I can't help but think what the last 2 years would have been like with him there. Trotter had some great hits, blowing up the line that kept the Patriots running game in check. They couldn't stop it entirely. But he did a heck of job.
KRIMPETS -- Soft players of the Game.
CB - Lito Sheppard and Sheldon Brown -- Neither corner had a very good game. But Lito especially fell asleep on his coverage of David Givens in the second quarter. He bit on Brady's eyes, as Brady found Givens WIDE open for a touchdown. If the Birds had held for a field goal here, we might still be playing this game.
QB - Donovan McNabb -- It's hard to be both the star of the game and the goat, but Dr. Chunky Soup and Mr. INT need to both be accounted for here. For as many great passes Donovan made today. There are a couple of passes, that he wishes he had back. Were all the INTS his fault? Well they go down in the record book, but only the FIRST INT changed the course of the game. We'll talk more about that later. Donovan turned the ball over 5 times today. 1 time it was reversed on a challenge, the other a penalty. Donovan is usually sure-handed during the regular season. But the losses in the Championship games and the Super Bowl come through Donovan. We need to get into his head.
LB -- Mark Simoneau, Dhani Jones, and Nate Wayne -- Most of the game these players were out of position, unprepared and not tackling. One key play, Trotter recoginized a screen and was screaming for Simoneau to get into position. Simoneau seemed to call him off, and was out of position, tried to blow up the block and had NO help from behind to stop Corey Dillon. Let's hope that for these 3 players, that are playing somewhere else next year.
---
Keep an Eye on'em:
CB - Matt Ware-- Ware is going to be a stud in this league. He has the size, the speed and the great tackling ability. He reminds of Bobby Taylor who can hit. Ware will be a star in this league. While he may have been credited with covering Branch on a ton of plays, it was the Eagles playing a zone that the Pats exploited. Not Ware's fault.
DB - Rod Hood-- Had one Kick Off Return of 32 yards. The Pats kicked to J.R. Reid who had an okay day averaging a little over 20 yards per return.
Numerology-- Key Stats
51 -- The Eagles threw the ball 51 times, while rushing the ball only 17 times. You need a balanced attack to win NFL games, especially the Super Bowl. I love Brian Westbrook, but if only we had Duce or Buckhalter to balance the attack.
7-47 -- Normally a disciplined team, the Patriots were penalized 7 times for 47 yards, stalling drives and extending Philly drives.
4 -- Turnovers. You can't win games turning the ball over 4 times. These costly turnovers were the difference. The Birds keep the ball on just one of those possessions. We are Super Bowl champs.

Cheesesteaks -- Key Plays
Donovan McNabb was sacked after the Eagles got inside the 10 yard line after a great Run After Catch from Owens. (How many yards did he have after the catch?) He followed that up with a poor throw into the End Zone that was picked off. Fortunately, there was a penalty. What does he do on the VERY next play? The VERY next play? Throws another INT this time to the left side EndZone. The Ball was intended for Westbrook who was well covered and the ball was undethrown. That was it. That was the turning point in the game. The Eagles score there, this is a whole different game.
Dirk Johnson shanked a punt in the second quarter from the Eagles 12 yard line that game the Patriots great field position at the Eagle 37 after a 4 yard return. It was a 29 yard punt for a net of 25 yards. The Patriots scored their first touchdown on this possession. Another element to the game that allowed the Patriots to walk away with this title.
Marc Simoneau not recognizing the Screen and not getting to Dillon (see above)
Todd Pinkston made some tremendous catches today. Some of the best I had seen. When he left you could say that there was a change, but i dont' think so, because Greg Lewis filled in nicely. But Pinkston's 2 2nd Quarter catches on the Eagles first Touchdown drive WERE key. His leaping catch for 40 yards, with a defender draped on his back, was a thing of beauty.
Wooder Ice -- Licks of the Game
Michael Lewis and Matt Ware combined to lay out David Patten out, where Patten just gave up on the play knowing he was going to get hit. Big hits like this set the tone. Unfortunately, not enough.
Keith Byars -- I don't remember too many big hits today, but NBC 10 did an interview with Randall Saturday night and they showed his famous block on Pepper Johnson. You should see Pepper FLY off the screen! Pepper Johnson is a coach with the Patriots.
---
Eagles Blogs and Fan Sites
---
TAGS: