2004 Week 1 -- T.O. Leads Birds to First week Victory; Eagles 31 Giants 17
Last Modified

9/15/2004 1:02 AM

Story Summary

The Eagles open up the season against the team that turned around their season last year, the New York Football Giants. And T.O. and Donovan came to play!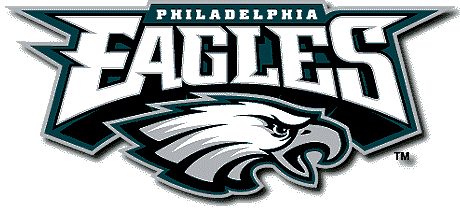 McNabb nearly Perfect; Westbrook Shines
#1 Draft Pick out for Year
---
All it takes for just 1 Wide Receiver. Okay, one great Wide Reciever. Terrell Owens made his first day as an Eagle one to remember. And judging by fans reactions, he may have washed away the opening night disaster last year. The controversial, outspoken receiver, put his mouth away and did his business on the field. The crowd was awash with T.O. cheers. Fans were beside themselves. They saw the last 3 years with the Thrash and Pinkston as a mirage. Screaming "WE TOLD YOU SO" in their heads. Fans KNEW that it made no sense for Reid to continue to argue that the receivers were okay. They were never adequate. And now, one receiver makes the rest of the team better. Pinkston who my Dad, declared last week "He sucks" and of course would have sent him on the plane back home at half time of the Green Bay Monday Night game last year, even put together a great game. T.O. makes Donovan better. Where was the inaccurate McNabb? When you get guys open, you don't have to struggle to find an open receiver, it's a lot easier to make that pass.
| | |
| --- | --- |
| The Complete History the Philadelphia Eagles | 2003 Eagles Yearbook. |
Now on to the recap: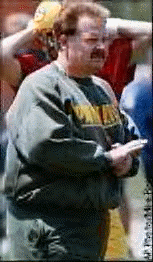 Andy Reid Watch
Back when Randall Cunningham led this team, there was a pervasive thought, that the John Gruden's West Coast Offense restricted his ability to run with the ball. The Battle cry was "Let Randall Be Randall", the cry came from Randall himself. (The phrase may have come up earlier than that around 1990 when Kotite was the Offensive Coordinator under Buddy Ryan.) Sometimes an offensive system, can restrict the natural abilities of your skill players, some hide the flaws of the skill players, and sometimes, you just needed the RIGHT players for the system. As we talked about earlier, Reid was "satisfied" with his Wide Receivers. Well the purse strings were cut (or were they?), and they went out and brought in 2 of the best free agents out there, plus picked up 2 of the best players who were released (Trotter and Douglas). The change in philosophy has re-energized a fan-base that was as rabid as ever.
Kotite-esque
Sub-Par
Servicable
PlayoffBound
Excellence
?
?
?
?
?
?
?
?
?
?
Here's the Breakdown:
| | | | |
| --- | --- | --- | --- |
| Place | Opponent | Oppt's Record | Network |
| Lincoln Financial Field | New York Giants | 0-0-0 | FOX |
| TIME | DATE | Philly Coverage | Philly Radio |
| 4:15 (EST) | September 12, 2004 | Fox 29 | 94.1 WYSP |
| NFL Site | Web Action | Eagles Site | Opponents Site |
| NFL Site | Web Action | Eagles | Giants |
| | | | | | |
| --- | --- | --- | --- | --- | --- |
| | 1 | 2 | 3 | 4 | F |
| Giants | 7 | 3 | 0 | 7 | 17 |
| EAGLES | 14 | 10 | 7 | 0 | 31 |

NFL Equipment Philadelphia Eagles Terrell Owens Authentic White Jersey

HOAGIES -- Stars of the Game
WR - Terrell Owens-- The big receiver had 8 catches for 68 yards with 3 TDs.
RB - Brian Westbrook-- Once again, Westbrook has proven how special he is adding to his 119 yards on 17 attempts, he added 42 yards on 3 catches. No touchdowns however. There weren't enough touches to get in the end zone.
QB - Donovan McNabb-- Near Perfection. Donovan put together one of his best games EVER. Leading to his 137.5 rating, McNabb was 26-36 for 330 yards and 4 TD.
KRIMPETS -- Soft players of the Game.
RB - Reno Mahe and Thomas Tapeh -- In mop-up duty, the 2 backs combined for 10 yards on 6 carries. This is not good enough. This is why Dorsey Levens is on his way back.
P Dirk Johnson -- Dirk had a 27 yard punt, that gave the Giants excellent field position that led to their first score. He averaged 34.3 yards per punt, his longest was 42 yards.
Defensive Tackles -- While the D-Line had 3 of the teams 5 sacks, they couldn't stop the run. This has to be corrected.
---
Keep an Eye on'em:
DB/KR - J.R. Reed-- After the Giants took a 7-0 lead, the Birds really needed a spark. The rookie return specialist made a run back that would have made Brian Mitchell proud. Wearing Mitchell's old number (#30), wouldn't go down on the first hit. That energized the Eagles Offense who went down and scored.
Numerology-- Key Stats
Terrell's 3 touchdowns was more than ANY Eagles Receiver had all last year. Eagles receivers TOTALED 5 TDs.
Spreading the ball around, McNabb hit 7 different receivers. Leading my buddy Wayne to ask, "WHO DO YOU COVER?"
Penalties were a big problem this preseason, things were no different in this game. You can argue questionable calls for sure, but the Birds were penalized 8 times for 50 yards.
Cheesesteaks -- Key Plays
Donovan McNabb made one of those special plays, rolling to his right, on the Eagles second score, almost going out of bounds, throwing across his body, to find Terrell Owens to take the 14-7 lead. It's plays like that will put the Birds over the top this year.
Shawn Andrews broke his leg in the second quarter, which will put him out for the year. After the draft, my Dad was concerned about the pick, because guys on the offensive line don't score. But we both really liked his play and thought he was going to be a HUGE contributor on this team. Artis Hicks should be able to step in nicely. But this one hurts.
Wooder Ice -- Licks of the Game
Jeremiah Trotter Put a big hurt on former Eagles punter Jeff Feagles. His shot, nearly broke Feagle's jaw, and certainly made the Giants Michael Strahan mad. He has called for an investigation! That hit really energized the crowd.
Jerome McDougle introduced Eli Manning to the NFL with a bone shattering hit. This is the kind of hit of that could mark a career. For McDougle, this is his first sack.
---
Eagles Blogs and Fan Sites
---
TAGS: