Eagles 2006 Week 2: Birds Fold, Giants Cash in Overtime, 30-24
Last Modified

9/18/2006 1:37 AM

Story Summary

The season is not over. But the Eagles have lost 7 straight Division games. And each one of these division games are important. 3 of the NFC East teams are now 1-1.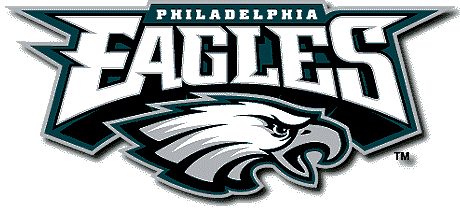 Birds Lose Edge in 4th Quarter
Conservative Play Dooms The Birds Late
---
This loss was very hard to take. The game was in hand from the beginning. After the Giants had opened the game with a decent scoring drive. The Birds answered back with a touchdowon of their own, knotting the game at 7. The Birds dominated the rest of the half and through the 3rd Quarter. Donovan was crisp and L.J. Smith was outplaying Jeremy Shockey. Unfortunately, everything crumbled in the fourth quarter. The offense sputtered along with unimaginative running plays and a lack of the energy of the game plan that was so successful early. And the defense which played with high energy and great pressure on Eli Manning, went into a soft zone which allowed the Giants to move the ball at will. The lackluster 4th quarter allowed the Giants to tie the game (thanks to a Trent Cole personal foul) and in the end it was pressure on Eli Manning that caused the game winning touchdown as Manning threw a gopher ball that was reminiscent of a ball Jake Delhomme through against Sheldon Brown in the NFC Championship a couple years ago. Passes that should have been defended became touchdowns. This one won the game.
Instead of going 2 and 0 on the season with their first win against an NFC East opponent since 2004. The Birds fall to 1-1, causing a 3 way tie in the NFC East with the Giants and the Cowboys. There could have been 2 teams at 0-2 after this weekend virtually buried. It is very hard for an 0-2 team to make the playoffs. The Eagles have done it. But the Giants, aren't good enough. They weren't good enough to win today. But the Eagles fortunately played bad enough to even the score a little. This loss hurt. My Dad said "this will go down as one of the worst losses in Eagles History." My Brother-in-law told my sister that this was the "worst choke job in Philadelphia history." I don't know where this game will rank in history. But it hurts. It hurts really bad.

The Complete History
Philadelphia Eagles

2003 Eagles Yearbook.


2004 Eagles Yearbook
Now on to the recap: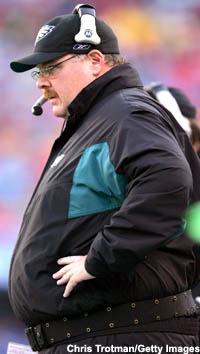 Andy Reid Watch
Over the years, Andy Reid's game day coaching has come under scrutiny. Today, the magnifying glass is huge. After creating a game plan that was spectacular, when faced with a 17 point lead, Reid made the oddest choices with play calls. Twice Reid tried to bury the Giants with some 4th and short go-for-it's in the "Maroon" zone. However, his first attempt was near the end of the first half. Despite McNabb not being able to get the first down, the Giants couldn't capitalize and the Birds were still able to kick a field goal before the end of the half.
Later however in the 4th Quarter, Reid made the right call to go for it late. After starting a drive on a Jeremiah Trotter, Reid decided to bury the Giants again by running a 4th and 1 play up the gut. EVERYONE in Philadelphia, New York and Kalamazoo knew what play was going to be called. Play Action? Andy and Marty? Nope, nothing, no gain. Awful.
| Coach * | Regular Season | Playoffs | Overall |
| --- | --- | --- | --- |
| Andy Reid | 71-43 (.623) | 7-5 (.583) | 78-48 (.619) |
| Greasy Neale | 63-43-5 (.568) | 3-1 (.750) | 66-44-5 (.574) |
| Dick Vermeil | 54-47 (.535) | 3-4 (.429) | 57-51 (.528) |
*Records Coaching Eagles
Kotite-esque
Sub-Par
Servicable
PlayoffBound
Excellence

  

  

  

  

  

  

  

  

  

  
Here's the Breakdown:
| | | | |
| --- | --- | --- | --- |
| Place | Opponent | Oppt's Record | Network |
| Lincoln Financial Field | New York Giants | 1-1-0 | FOX |
| TIME | DATE | Philly Coverage | Philly Radio |
| 9:00 (EST) | September 17, 2006 | FOX 29 | 94.1 WYSP |
| NFL Site | Web Action | Eagles Site | Opponents Site |
| NFL Site | Game Book | Eagles | Giants |
| | | | | | | |
| --- | --- | --- | --- | --- | --- | --- |
| | 1 | 2 | 3 | 4 | OT | F |
| Giants | 7 | 0 | 0 | 17 | 6 | 30 |
| EAGLES | 7 | 10 | 7 | 0 | 0 | 24 |

NFL Equipment Philadelphia Eagles Customized Authentic Road Jersey

HOAGIES -- Stars of the Game
FS - Brian Dawkins -- Sports Illustrated in their NFL Preview says that Dawkins doesn't make the plays he used to. Really? Because he's been playing like a monster this season. This week he had 10 tackles (7 solo), 2 QB Hits, 2 Passes Defensed, 1 Forced Fumble (that somehow became a TD for NYG) and an almost interception. Maybe SI was right, the Fumble would have been recovered by the Eagles and the interception would have been his a few years ago.
QB - Donovan McNabb -- Alot of people in this town will blame Donovan for this loss. Stephen A. Smith seems to think so. But he's an idiot and so is anyone else, if they think #5 was to blame for Sunday's loss.
DE - Jerome Kearse -- 2.5 sacks and one forced fumble. The new look Defensive Line for the Eagles has let the Freak loose. Unfotunately that last half sack was costly and Kearse may be lost for a while with a serious knee injury.
KRIMPETS -- Soft players of the Game.
CB - Sheldon Brown and J. Hanson -- Brown was outplayed by Toomer on the pass in Overtime that ended everything. Hanson who had to fill in for the injured Rod Hood who was filling in the for the injured Lito Sheppard just didn't get the job done.
WR - Reggie Brown -- Brown had just 1 catch all day. And for the most part was missing, save for his lone 23 yard touchdown. The Eagles are going to need a better performance from Brown if they are going to rebound from this huge loss.
DE Trent Cole -- There were a few blunders today that caused today's loss. But NO blunder MORE causal than Cole's stupid 15yard penalty for kicking a Giant in the groin. Fox's cameras were NO where near the action and had to provide satellite photography to determine what happened. Regardless, this allowed the Giants to attempt a 35 yard Field Goal to tie the game in regulation rather than a 50 yard shot.
---
Keep an Eye on'em:
FB - Thomas Tapeh -- Now, Tapeh has struggled with catching the ball out of the backfield. 2 catches for 9 yards added to his one rush for just 2 yards. But he has consistently blocked well for both Westbrook and Buckhalter all season long.
Running Numbers -- Key Stats
309 -- The Eagles had 309 first half yards. The Giants just 87. By the end of the game? The Giants had 404 yards, the Birds finished with 451 yards.
0-2 -- Reid went for it twice on 4th down. Had he converted on either, he would have been lauded as a genius today, because the Eagles would have won handily. But alas, it's a different story.
8 -- 8 sacks. The Eagles had 8 sacks today. That usually means a win. But somehow the Eagles lost this game. Unreal..

Cheesesteaks -- Key Plays
David Akers missed a 49 yard field goal attempt with 6:49 to go in the 2nd quarter. Missed figgies are a apart of the game. But this one could have prevented Overtime. .
Brian Dawkins tackles Amani Toomer on the Eagles 16 and forces a fumble. Michael Lewis falls on it but can't control the ball. The ball rolls into the end zone and it is recoevered by T. Carter. Touchdown NY Giants. Horrible.
Jeremy Shockey catches a pass and runs out of bounds at the Eagles 32 Yard line. A 50 yard field goal try would would be the Giants next play. But Trent Cole is called for a personal foul. 50 become 35. Tie Game.
Wooder Ice -- Licks of the Game
David Akers on the opening kickoff got hit from behind and took a lick on a Giants assistant coach, which caused 2 Giants to start wrestling Akers. No penalty was called, but we did get to hear Joe Buck mention Akers' cheap shot most of the game.
YO! -- Sights and Sounds of the Game
Mike Quick gets a bad rap from yours truly on his call of the game. As a color analyst myself I know how hard the job is. But Quick did a decent job analyzing the game especially the Wide Receiver play of Donte Stallworth. He noted after Stallworth got jammed by Madison early in the game, Eagles Great Harold Carmichael went over to Stallworth to give him some advice that could only be related beating the jam. Also, he diagrammed perfectly Stallworth's touchdown catch. So well, that when I saw the catch after watching game film later, it was like the second time I had seen the footage.
In the second quarter, Dhani Jones is featured hitting Shockey driving him to the ground. It was a clean play and Troy Aikman gave Jones his props. Unfortunately, the play was incorrectly called a Defensive Hold, to which Aikman responds "If that's not a hold I don't know what is." Well, Troy, you never said anything the first time through. So maybe you don't know what holding is.
Don Tollefson called Troy Aikman a friend and gave him warm congratulations on his Hall of Fame election. Tolly you are on notice. That's unacceptable. You can interview a guy without kissing his ass. The guy was a Dallas Cowboy.
---
---
Eagles Blogs and Fan Sites
---
TAGS: