Great Philadelphia Eagles videos on You Tube
Last Modified

7/21/2006 4:14 PM

Story Summary

Training Camp has begun, so I figure in honor of training camp we'd bring you a few videos of some of the greatest Eagles moments ever.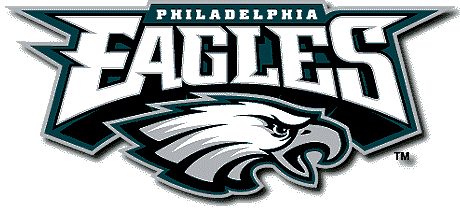 What better way to celebrate the start of FOOTBALL season, then remembering great moments in Eagles history, courtesy of YouTube.com, the greatest invention since Mr. Microphone. You have no idea how hard it is to podcast using a Mr. Microphone!
The venerable Eagles Defense in the late 80s and early nineties were the stuff of legends. But what legends do the 95 Eagles Defense project??? William Fuller, Bill Romanowski, William Thomas, Bobby Taylor. This 4th and 1 stand could be one of the greatest games the Eagles have ever played. Here is a fantastic recap of that great game.
The greatest play in Eagles History? Perhaps. This video is great, because it's not the NFL Films with Merrill Reese dubbed excitement. This is the original CBS broadcast which shows, the CREDITS rolling, because the GAME was virtually OVER! Absolutely TREMENDOUS!
With the Eagles season in TURMOIL. The Eagles are down 17-14 to to the Giants with a minute and a half left. And Former Eagles punter Jeff Feagles punts the ball to Westbrook. Westbrook fields and takes it TOO the HOUSE. Touchdown. Saved the season.
In what is a perennial contender for the boorish behavior of Eagles fans, the Philly die-hards cheer Michael Irvin's injury at the Vet. In every stadium in America, when you realize that the other teams star player is hurt, a HUGE roar is heard from the crowd. The fans weren't cheering his paralysis. Only that he's out of the game. But if you expect the fans to STAY QUIET while that loudmouth lay prone on the ground, that's another thing. Michael Irvin is a despicable human being and even worse as a football player. He is everything that is wrong in sports. And he has his hand in making TO be TO. And well... I'd like to cheer ONE MORE TIME.
Great old school piece on the Eagles-Cowboys rivalry. A rivalry that will only be bloodier and more hate-filled with TO on the the Cowgirls.
Unbelievable, play by the ultimate weapon. I remember watching that play and screaming "OH MY GOD". My Dad and I looking at each other in amazement. We did that so many times watching Randall do his magic. My favorite part of this video is Frank Gifford calling Randall a "Quarterblack". It was a slip of the tongue. But if that happened today what would have happened to him? I can't believe MORE people don't talk about it. Well, I guess we can't blame Frank. I mean, after Bednarik's hit, anything he ever did afterwords should be couched the same way they with the slow kid in class.
Okay, he doesn't kill him. But Pat Summeral thought he did. Another one of the top 10 greatest plays in Eagles History.
I couldn't find the video for Randall's tremendous play against the Buffalo Bills and Bruce Smith. But in the very same year, he threw a 95 yard bomb to Freddy Barnett after nearly being decapitated by NFL All-time Sack Leader Bruce Smith, here's Randall bouncing a punt passed Dave Megget for the longest punt in Eagles history. (NFL Record 98 yards)
Monday night games are huge in Philadelphia. Monday night games against Dallas... Well, there are even MORE monolithic. And making one of the top 30 plays in MNF history... against the Cowboys... Well, that's just plain special.
Sometimes all you need to say a quick phrase to evoke great memories. Miracle at the Meadowlands. Immaculate Reception. Well 4th and 26 evokes those kind of memories. In a divisional playoff game against the Packers, when all hope was lost. It's 4th and 26, you have to go for it, because if you are stopped your season is over. So what do you do? You throw the biggest pass in your history. 4th and 26. It's a shame that 4th and 26, now leaves a sour taste in your mouth. With Freddie's mouth running him out of town and out of football. And it just reminds you that they Birds just lost to the Panthers the following week. But sometimes 4th and 26, is just that... 4th and 26.
Relive the 3 consecutive NFC Championship losses, followed by the joy of the NFC Championship victory against Atlanta. Please note that this video ends before the Super Bowl.
Dawkins destroys Crumpler. BDawk is a monster, and perhaps the greatest safety in Eagles History... and this is the same team that has employed Wes Hopkins, Andre Waters, Bill Bradley, Tom Brookshier.
This hit is delicious.
Philadelphia Eagles Blogs and Links
---
TAGS: