Phillies Win the World Series
I'm a World Champion
Last Modified

10/30/2008 2:08 PM

Story Summary

The Phillies win a World Series. And I become a World Champion. Phinally. It's becoming real. Right now.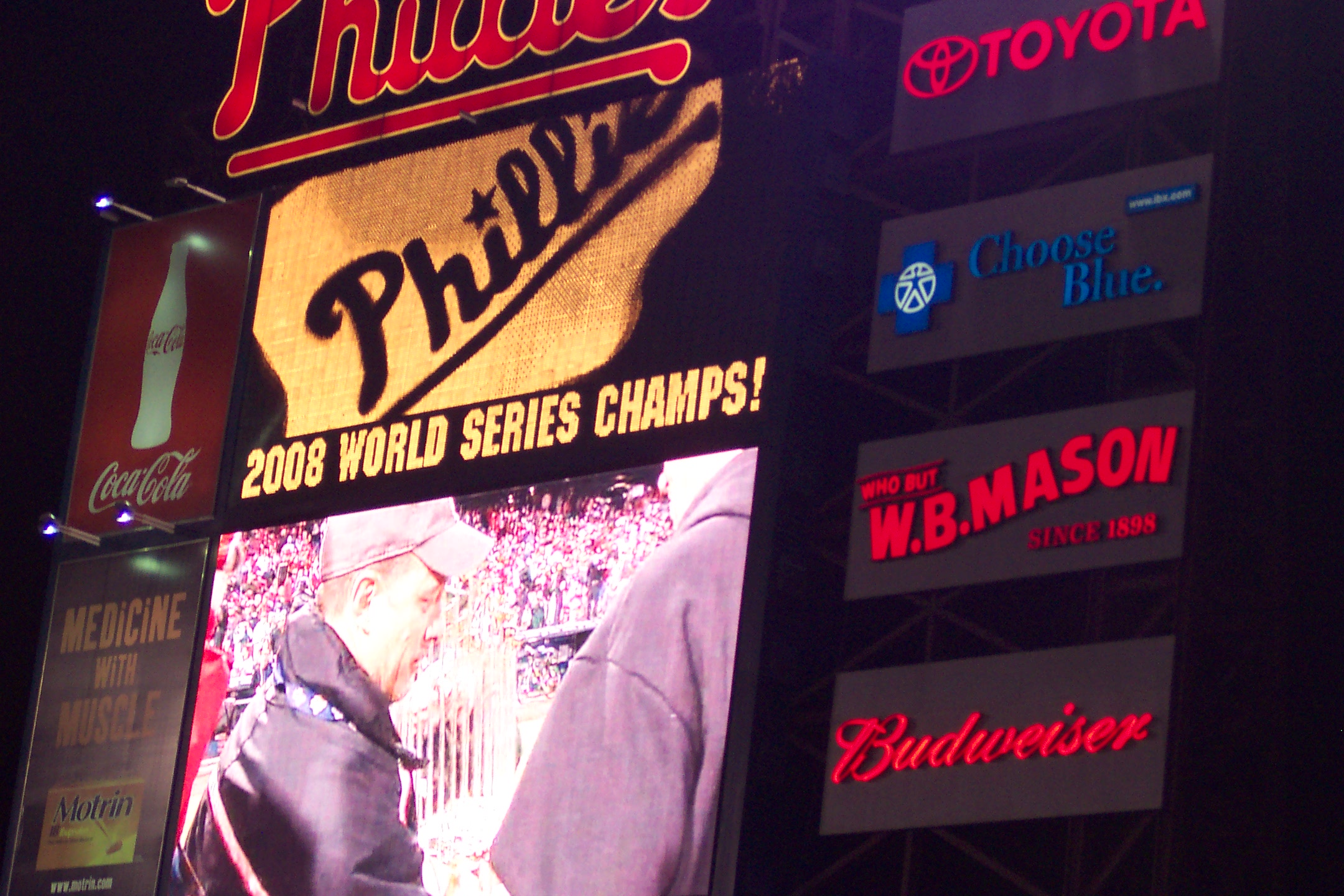 by Mike Cunningham, a World Champion
Phillies are World Champions! Get the Hat
I've been telling people about the last 3 innings. Was that the greatest baseball you have ever seen?
Almost like when Hockey was shortened by the strike season, when Lindros won the MVP way back in 94-95, how great that sprint was?
The 3 inning sprint to the World Series title was something baseball will hang their hat on. From Jenkins leading off with an unlikely double, that may or may not have been knocked down by the wind. I sat in the upper deck in 205, that ball was coming towards Right... and it disappeared out of sight. Normally you hear a quick pause and then a huge cheer for a home run. But the pause was longer... then there was the cheer. WHAT HAPPENED?? I looked at Jenkins and saw his reaction. For a guy who really had a disappointing season up until that point, he became a hero. Rollins perfect bunt. For as much trouble we have getting a bunt down, that was perfect. Then hitting pop-fly to the defensive goat Iwamura to score. This crowd was ready to win.
I was the resident out counter in our section. I didn't want to do it... but I did it anyway... 9 more outs. Then 8. Then... shiznit... Rocco Baldelli. The crowd which was so electric on the first out... turned less than silent if there was such a thing. The cheer Madson received on his way out. They weren't cheering Madson for that inning. They were cheering Mad dog for all of his innings, especially his innings in the playoffs. That's why Philly is the greatest baseball town.
If I called to the bullpen I was calling Scott Eyre, because we needed JC for the 8th. Then Romero came out the door. I told my section I guess that means Lidge is going more than one inning. I was worried about iwamura, he's one of those Japanese slap hitters that can get a base hit on junk, on balls no one has any business getting hits on... he swings... it's utley... dammit... they are going to sc... wha-.. wait... YES!!! Out at HOME. F-You Willie Mays. That might be the greatest defensive play in World Series history. Someone mentioned (RSB?) that he knew to go home because that's what he would have done. On the post game, he said as much. That's why you have to love Chase Utley. He's so in the game. That he's already a step ahead of you.
The Crowd starts to believe again.
It's the bottom of the 7th... Can I take 2 more innings? Pat Burrell comes up. He looked hitterish. In both parts of Game 5. The first Phillie on the field to stretch after BP, was Pat Burrell. On Monday, he kept punching his lower right back muscle near the hip. It was hurting him bad. But he went through his warm ups. He was the only major league ball player on the field. I wonder what he thought. Was this the last time? Last night... there was a quiet air in the stadium no one is on the field.... a nervous anticipation... Then you hear a ROAR. What was it? Pat the Bat coming out to warm up. Alone. Again. First guy out there. Pat Burrell. Will the Manchine return? There he stood, I was quiet. I was focused on Pat's stance. Was he feeling his back? he called time and stepped out and took a practice swing. He was set. "This ball is going out," I thought. Then he crushed it. The crowd let out a gasp/scream. They knew it was GONE. We all knew it was GONE. It had to be. For Pat. For Us. still going... off the wall. a foot away... "Why aren't you on third?" Typical Philly. I knew it was going to happen. But out came Bruntlett. The gut.
It's Victorino time. Why is he bunting. He's a hero. Don't take the ball out of his hands, this guy is dragging his knuckles to throw. C'mon Charlie! It's two strikes. Swing a way. Ground ball. That gets Bruntlett over. It's Feliz time. You have it in you for a ground ball, Chooch style? I know how the beerleaguers felt about Ruiz. Yeah, the numbers tell you that he's got no shot. You can hear the calls for Dobbs. You just need one hit Pedro. Ground ball past the drawn in infield. CAN YOU BELIEVE IT!
Let's pile on. Bring out Dobbs.. wait.. what? JC Romero? wha- Trust THE GUT. TRUST the Gut. A guy two rows in front, swiped his hand to the side like he was staying 16, "Lets get this over quick, no matter what it looks like."
Romero's not throwing strikes. YOU CAN'T LET Crawford on base. base hit. OH NO. the crowd feels it. BJ Upton. The Rays hero. Crawford on base. The Rays, um, legend? The guy to my left says, "Double Play". I scream but these two are the hardest to double up. First pitch. DOUBLE PLAY! Can YOU BELIEVE IT! Hugs pandemonium in our seats... hugging strangers like they were my brothers... 4 more. Romero to Pena. 3 straight balls. UGH. line drive... to Burrell... I mean Bruntlett... YES! 3 MORE.
Shop Phillies World Champ Gear at FogDog.com!
The bottom of the 8th, the place was nervously loud. Rollins looked relaxed. He's going deep. It's a shot... it's deep.. .it's falling. Too high... Jayson Werth... come on... struck out. C'mon Chase. Hit it right here. Okay, a walks as good as a hit. "COME ON BIG MAN. M-V-P." that's okay. that's okay. We still have a few more innings... SIRENS... wait a minute... OH MY GOD... It's BRAD LIDGE!!!! The crowd is now on it's feet.
EVA... EVA... EVA... **CHEERS** It's 0-2 Ump goes out to check the ball... F**K YOU MADDON, this is BRAD LIDGE his sh** is NASTY.... EVA... EVA... booooooooo.... It's 2-2..... COME ON Chase! 2 MORE !!!! It's Navarro. We can't this guy out. Dammit. Still can't get this guy out. Pinch Runner. Baldelli sits. Come on Maddon, over manage much? Zobreist. No match. line drive... to Werth in front of us. whew. that looked dangerous for a second. ONE MORE!!!
Eric Hinske. One swing, and it's over. One brief moment of doubt. This is Brad Freaking Lidge we're talking about. He's been perfect. EVERY time that siren sounded and I was here. He got the job done. ONE MORE.
Phillies are World Champs! Get Stuff.

3 pitches. And the Phillies are World Champions. 3 pitches. And WE ARE ALL World Champions. 1 strike out. And I'm a WORLD CHAMPION.
YES! WORLD CHAMPIONS! HUGGING EVERY ONE... tears... hugs... high fives... more tears... hugs...
I wish you all could have been there.
Phillies are World Champions!
---
ESPN Phillies Widget
---
---
TAGS: