Charlie Manuel Quote of the Day --
If It's Up to Chollly, Cole Will Chase Orel
Last Modified

5/21/2008 1:11 PM

Story Summary

Charlie Manuel Quote of the Day: The Phillies are a game and a half out of first. And our Ace stopped a 3 game slide with another fine pitching performance 11K and 0ER. Uncle Cholly speaks...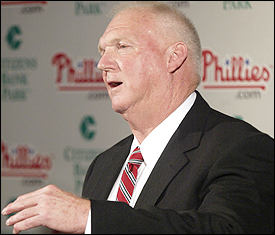 Charlie Manuel Quote of the Day

At this point in the season last year, the Phillies were 23-24, 6.5 games back of the Mets in 3rd place. Right now, the Phillies are 25-22 1.5 games back of the Marlins, in 3rd place. Technically 2nd, but they are a game back in the loss column with the "Don't Look Now" Braves. But that doesn't matter, because Cole Hamels had another fine pitching performance with 7 strong shutout innings with 11Ks. He now has a 19 inning scoreless inning streak. The Major League record is 59 innings held by Cherry Hill, NJ native Orel Hershiser. Who you can now seeing playing Poker on TV.
One of the great things about Charlie Manuel is the confidence in his players. His feelings about Cole Hamels are no exception.
"Is he going for Hershiser's record?" Charlie Manuel said. "It's up to him. If it's up to me, he might get Hershiser's and anybody who's after that."-- Charlie Manuel on Old King Cole
Yup. That's Our Manager.
---
---


-- Mike Cunningham, HammRadio.com
---
TAGS: