Hard to Believe, Harry
Last Modified

9/8/2005 1:46 AM

Story Summary

Rarely have Phillies games left me speechless. The last time I felt this bad after a Phillies loss was Joe Carter. Seriously.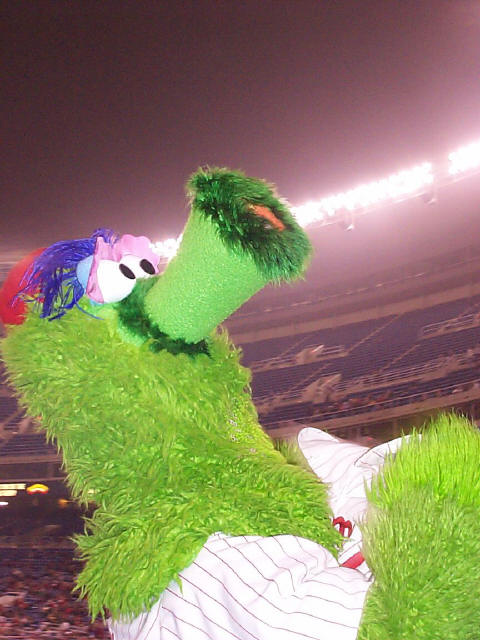 What a game, Phillies lose 8-6 to the Houston Astros, completing a series sweep, a season-series sweep and a 2 season series sweep. Yes, the Phils have lost 12 games in a row to the Houston Astros.
In each game of this series the Phillies have been in position to either win or tie late in games. They lost by a total of 4 runs this week. Tonight's two run difference was created by a 9th inning 3-run homer by Craig Biggio off Billy Wagner who had been lights out all season. Until Tuesday night. And tonight. After Wags Spent time on Daily News Live complaining about the fans who have been very harsh on a team that lost 2 in a row before coming back home, holding a very precarious Wild Card lead. I guess, they were right?
Stopping the Boos
Look, I'm tired of hearing the fans boo, too. But after witnessing the last 3 games, I don't know if you can blame them. Booing typically is reserved for players who aren't gutting it out. You can't really say that this team hasn't really been trying, otherwise these games wouldn't have been that close. Box Scores: Monday. Tuesday.
But clearly there have been right times to boo. Errors when there are 2 outs in the 9th. Striking out on pitches in the dirt which has happened in each of the last 3 games. Poor baserunning mistakes. And BONEheaded blunders from the Manager, all are cause for boos.
Overall, the fans this season gave this team VERY little room to succeed and even smaller latitude to fail. The general psyche of this town is all screwed up because of the lack of a championship. Had the Eagles won the Super Bowl this year, there might have been more gravy for this team. Although, if this free fall continues, we might see depths of fandom we haven't seen in a long time.
All I know, is that I'm sick. The last time my body felt this way after a sporting event was the Tampa NFC Championship loss. Seriously. For the Phillies? Joe Carter. Really.
What Blunders?
Well, first, in the 6th inning, after Padilla had walked Berkmann, the Phillies were positioned at Double Play depth with the 3-2 lead. If this was the 7th inning, I suppose the Phillies might have been protecting the line, but in the 6th they were settling for a double play with no outs. Made no sense in my mind. If Bell was positioned correctly to protect the line, he would have had the Double play and Lamb's homer wouldn't have hurt so bad.
Secondly, Why was Pat Burrell on First Base with Ryan Howard at the plate? Howard doubled, and Burrell had to hold at 3rd. Chavez might have scored on that double. Okay, now Chavez is on 3rd, and couldn't score on the ground ball to Berkmann. Huge play. Then Victorino gets a base hit to score a run with 2 outs. But what the hell was Bell trying to score for? How many times have Phillies been thrown out at the plate this year??
What the Blogosphere is Saying
Beerleaguer is as deflated as I. Shallow Center is reminded of history repeating itself. Billy Wagner gets the Steve Jeltz Award From PhilliesNation. "Done. Kaput. Finito" says Phillies Foul Balls.
Ryan Howard, Stud For Hire
I have no idea what the Phillies plan to do with this kid. No one is talking. Jim Thome was in the TV booth while I was listening to the game on the radio. So I don't know what he had to say. But I do know that when I left work, with Howard coming Burrell and Howard coming to bat, I made a mistake as Howard hit his second homer in as many days to take the lead. Howard's homers this year have been clutch. This kid is FOR real. For Real.
Need Work on my Play by Play
Color commentating for football games hasn't helped my ability to call a baseball game. My Dad's power went out with 2 outs in the ninth and Bell had made the error. I guess the power went out at the right time. So I had to give him the play by play. I have to remember not to CURSE the next time. My Dad and I have shared many a terrible moment in Phillies sports history. The shock and anger in his voice was too much for me to take. I'm young, I'll recover. Tonight's loss, could very well be the last time my Dad watches a game. He might just give up being a fan. I hope not, he's undefeated this year and we have a game to go to on Sunday.
What happened to Phillies Weekly?
Well, I don't know. The podcasts (Don't confuse my Phillies Weekly with this Phillies Weekly)have taken up a lot of my time. But you might ask, but Mike, Phillies Weekly was posted Sunday Nights/Monday Mornings. Yeah, I know. Okay, I have no excuse. I've decided that Phillies Weekly doesn't work unless I document the daily progress here. So you will see more Phillies blogging daily here on HammRadio. Are you excited? And hopefully that will translate into an easier time posting Phillies Weekly.
HammLinks: Phillies Blogs
Philadelphia is home to the finest blogging in the nation, you can see that over at PhillyFuture.org But the Phillies have a loyal blogging fan base. Get to know these guys. If you see a blog that should be here, e-mail me at PhillySportsHQ at hammradio.com. If you are an owner of this blog, feel free to link to HammRadio.com or coming soon, PhillySportsHQ.com
Send us an e-mail if these links are out of date. We will try and update the order, based on posting frequency and quality.
Other Baseball Links and Blogs
---
TAGS: