Mid-Summer Classic: Well, Classic is a strong word
Last Modified

7/13/2005 8:04 PM

Story Summary

All-Star Game wrap up, A-Rod is a Rod and perhaps a traitor, and the Phillies Vegetarian Menu.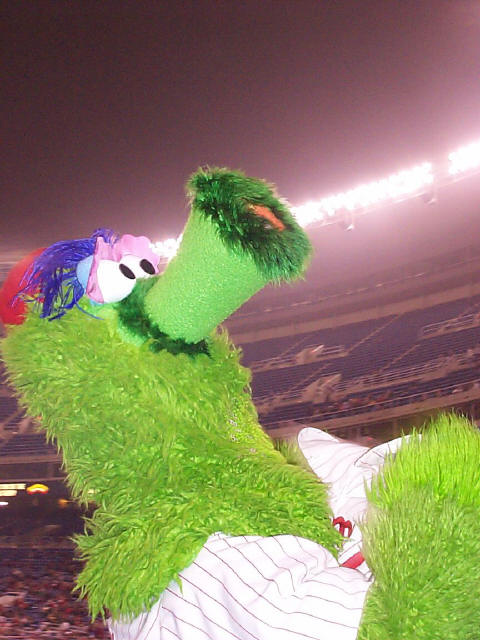 Around The Ball Park
The Mid-Summer Classic featured 2 Phillies Bobby Abreu and Jimmy Rollins who reached base a combined 3 times for the Nationals. Unfortunately neither could score as both were run up on double plays, and after Abreu walked, Beltran struck out to end the inning. The Phillies did their part. Can't say much for the rest of the league!
Kramer you're not trying to pass off an American as a Dominican are you? But seriously, does this really work within the spirit of the World Cup? What if Barry Bonds feel some sort of allegiance to Canada? I just think that if you were born in AMERICA you should play for America. That's just me. Hope Jeter kicks A-Rod's ass. Speaking of, A-Rod, you've just been nominated for A$$-hole of the week!
Speaking of Jeanie Zelasko, did you think it was awkward that she was selling that Corvette like she was about to give Tejada her first born? I felt like it was the Old Hollywood Squares (not the original, of course) with John Davidson, and JM J Bullock was going to come out with the keys as Tejada's good luck celebrity. For more on the All-Star Game checkout the latest Proof of Concept Podcast.
Look I like some vegetarian menu options. I will eat veggie burgers. But the So-called Tripe they serve at the Citizens Bank Park instead of a good Veggie Burger is truly not an option. My sister purchased one on Sunday after touting that she was giving up Red Meat. I picked up a 300 level Cheese Steak, rather than heading down to Geno's. Halfway through my steak, laboring while trying to recover from my hangover, my sister says do you want to try her veggie burger. It was HORRID. Seriously, there was something wrong with it. It was so bad, I couldn't even finish my steak. My sister grabs my cheesesteak and says "Do you mind?" And she finishes the damn thing! Perhaps that was her plan all along.
---
TAGS: