Phillies Notes: Rawlings Gold Glove Screws the Phillies, Flashing Back To Turn Ahead The Clock Night
Last Modified

8/24/2007 4:22 PM

Story Summary

Rawlings Recently announced the All Time Gold Glove team. The Lone Phillie? Joe Morgan. No Schmidt, No Maddox, No Bowa. Bowa was screwed the worst.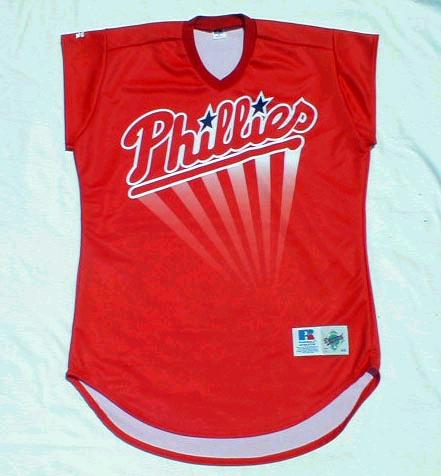 Rawlings Recently announced the All Time Gold Glove team. The Lone Phillie? Joe Morgan. But there were Phillies who received votes. Mike Schmidt finished 2nd to Brooks Robinson, that's about right. Schmidt was the second best fielding 3B all time. The greatest Hitter. The greatest all-around 3rd Baseman. that is not disputed. Scott Rolen came in 3rd place.
Larry Bowa didn't make the list which is a travesty. He led the league 9 times with the fewest errors by a shortstop. Yet only won the Gold Glove twice (1972, 1978). Thank you Dave Concepcion. In 1979, he set the all-time record for Fielding Percentage by a shortstop at .991. Yet got no love at Gold Glove. Thank you very much Dave Concepcion.
Garry Maddox was screwed too on this list. He made it on the list, but was behind: "Jim Edmonds, Andruw Jones, Carl Yastrzemski, Ichiro Suzuki, Al Kaline, Torii Hunter, Kirby Puckett, Paul Blair, Dave Winfield, Curt Flood, Andre Dawson, Dwight Evans". Are you kidding me??? Maddox, the Secretary of Defense, the man who it was once said, that "two thirds of the earth is covered by water, the rest is covered by Garry Maddox". That guy? The guy who won 8 straight Gold Gloves from 1975 to 1982. Barely makes the list??? Travesty.
Other all-time gold glovers on the list who spent time playing with the Phillies included: Bill White (1966), Ryne Sandberg (all 9 gold gloves with Cubs) and Bob Boone (1978, 1979 -- Boone later won 5 gold gloves with the Angels.) Manny Trillo's 3 gold gloves don't make the list either.
ESPN Page 2 listed a few Phillies in their all-time worst defensive players. Including Dr. Strangeglove Dick Stuart. Greg "The Bull" Luzinski (considering he played Left while Maddox covered Center, can you imagine how bad he REALLY WAS!) and Pete Incaviglia.
Flash Back To Turn Ahead The Clock Night
So I ended up reading
"Uni-Watch"
on ESPN Page 2. It seems like there is a lot of discussion for a subject that seems more suited for a good bathroom book rather than a regular column. But whatever. Anyway... There was a mention of this thing called... "Turn Ahead The Clock" Night. Well, I have no idea where I was in 1999. But as best as I can tell, I was on Venus or Wilkes-Barre, because I don't remember this ONE bit. On
September 11, 1999
the Phillies wore their "Turn Ahead The Clock" uniforms: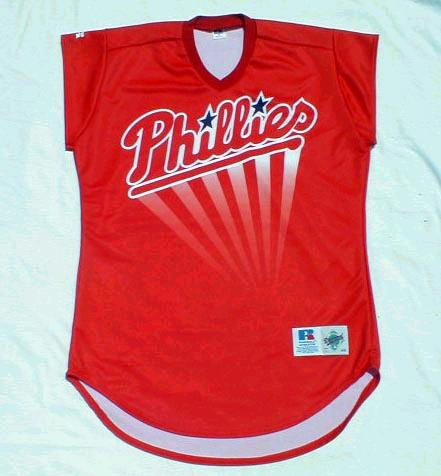 The Futuristic uniforms couldn't stop the Phillies from losing to the Diamondbacks, 4-0. Andy Benes defeated Randy Wolf, who had gone 0-8 in his previous 10 games. Yeah... I was shocked about that too.
How about that Phils lineup??? Doug Glanville led off and went 3 for 4. Didn't score a run. Rob Ducey played left and hit second. Abreu hit third and was hitless. Followed by Lieberthal batting cleanup, Kevin Jordan (3b), Marlon Anderson (2b), and Alex Arias (ss). That Terry Francona managed team, which featured Scott Rolen and Ron Gant, both with the nights off? I guess, the game article didn't indicate an injury? Schilling was hurt at the time. And that night featured appearances by Torey Lovullo (WHO???) pinch hitting. Amaury Telemaco and Wayne Gomes both pitched shutout innings to cap the loss.
Terry Francona Quote of the Day: "Hypothetically, if you put a No. 2 in this rotation behind Schilling, then add Byrd, [Robert] Person and Wolf, all of a sudden it doesn't look too bad," Francona said.
And YOU people want to criticize this TEAM!!! We are in a golden age compared to that night!
---
TAGS: