Time to Believe?
Phillies in First Place For First Time in 2006
Last Modified

9/21/2006 2:22 AM

Story Summary

The Phillies are in first place... Okay, they are tied. But they are in first place with 10 games to go... Folks the ride is not over!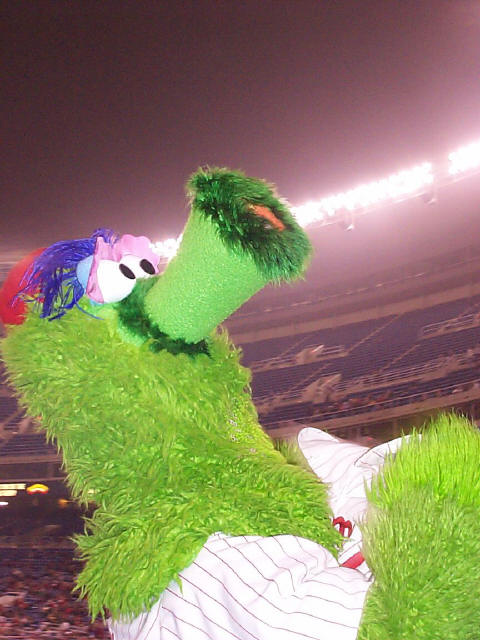 My Dad continues to temper my enthusiasms (as might be said by DeNiro in Untouchables while holding a baseball bat) about the Phillies and their playoff chances. My Dad of course is concerned about the ONE game. That ONE game that we were short last year. Where was that game? Was it in the 6 games lost to Houston? Where was it? It can make you nuts.
For most of the last month, the Phillies have danced near the lead of the Wild Card, but for the most part remained somewhere around... 1 game back. 1 game.
After the Dodgers lost again to the surging Pirates, the Phillies head into a day off on Thursday, with a share of the lead in the Wild Card race!
Is it time to get excited??? The Phillies have won 7 out of the last 10 games (the Dodgers are 4 and 6 over that span.) And Ryan Howard has hit just one home run in a week.
10 games are left. Baseball (if compared to Football) is a series of 10 game stretches. Each football game is equivilant to a 10 game stretch in baseball. The Phillies face their NL East nemesis the Marlins 6 times in the last 2 weeks [The Phillies hold an 8 and 5 record in the season series], a 3 game set with Washington, and a make-up game with Houston. 4 of the 10 games are at home, where the Phillies don't do as well. So the Phillies have a REAL shot... a realy shot more than anything.
The Dodgers could be spiraling... The Phillies are circling... and most importantly their starting pitching staff has been coming up huge... Is it time to believe???
You have 10 games to show that you do!
Make sure this last weekend series with Florida is FILLED... Filled to the brim with Phillies fans. These games should have playoff intensity. I was at the game Monday night... and there were 30k... and it didn't feel right. Make me proud Philly... Show up on Friday night.
It's time to Believe....
Is Abraham Nunez still on notice?
That's a good question. He's slowly moved his average up to .213 and has been hitting .283 with 8 RBI in September. This is the kind of production, the Phillies expected he would produce all season long. But it's coming at the right time...
Who's Mr. September?
Ryan Howard, our MVP choice, has hit 8 HR with 12 RBI, hitting at a .413 clip. But how about that Mike Lieberthal... Fighting through back spasms... he's only hit .563, with 3 HR and 7 RBI and an astounding 1.313 Slugging percentage.
And Who's Not?
Pat Burrell and David Dellucci in September are hitting BELOW Nunez's 2006 batting average here in September. That's just not going to cut it.
---
TAGS: