HammRadio Today: 10/13/2009 --
Give Me Your Good One
Last Modified

10/13/2009 6:58 PM

Story Summary

Carlos Ruiz stepped to the mound and told Brad Lidge, facing the Rockies toughest hitter with a 2-2 count, Give Me Your Good One. That moment made me realize what a second title would mean.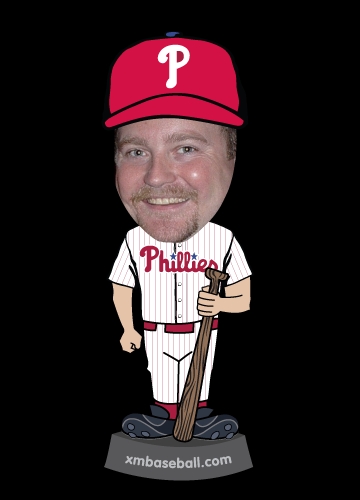 Contact Mike Cunningham at Mike (at) HammRadio.com
I'm exhausted. Great playoff series usually can do that to you. It also can happen when Game 3 of the series ends after 2am eastern time and the next day you play another 3 hour 41 minute game 16 hours later. A game filled with drama, better writers than I will attempt to make sense of it all. Like the great Jayson Stark.
It's nice that we can get a Philly Sports writer in the mix at the Big Leader. It saves us from the un-ending New York and Boston bias.
The tension from a 1-0 pitching duel into the sixth before each team trades runs to keep the 1-run game going until the 8th is truly unmatched in all of sport. Well, actually I'm sure it's matched. I just don't follow soccer or hockey enough to see tension, for me, it's merely an ebb of flow action. In baseball, there's no clock, just the interminable wait for the next pitch, the next out, the next inning. It doesn't help that in between, there are a hundred commercials for black tacos and George Lopez, twice as many blows into pitchers hands, and innumerable horrible calls behind the plate. [There is nothing more fun, than when TBS shows its PitchFx of the balls and strikes, and watch a ball sit 8 inches off the plate called a strike as the announcers sit in silence. Just once, I heard one of the no name announcers say "that was a bad call".] So the tension continues and boils in your chest.
My father when watching football would take a golf club (often a wedge) and hold it in his hand, tap it on the carpet, and in the most dire times take full swings. To reduce my tension, the golf club trick wouldn't work. I'd focus too much on my terribly strong grip to follow the game. So I pick up the Louisville Slugger my Dad picked up for me on his trip to Louisville. It would be more sentimental if I wasn't 27 when he bought it.
This new Good Luck Charm was brought out during Game 3, when Brad Lidge entered the game. Last night, it came out in the 8th. And lasted through the Madson collapse and survived my own personal champagne celebration. [Okay, not really, but I did drink a Coke Zero at 10 o'clock at night, which didn't help getting to bed.
And when Carlos Ruiz went up to Brad Lidge after getting a 2-2 count on Troy Tulowitski, and I pondered why I was so nervous, and why another championship could actually mean more than last year, and said "Give Me Your Good One", I remembered that this is why we watch the games, and why its so special. And why the next one is just as good as the first (or the second.)
Because this isn't about erasing Phillies ghosts and exorcising any demons. This is about writing history, changing history. Changing a century of notions about your ball club. And simply, just "Give Me Your Good One."
Phillies going to the World Series???
Does Fox or the NFL think the Phillies make the world series??
But the NFL has pulled an early flip-flop of Sunday games, due ostensibly to the possibility of a World Series game being played in Philadelphia on November 1.

So the Giants-Eagles game slides from 4:15 p.m. ET to 1:00 p.m. ET.

I probably should find that troubling in a very jinxing sort of way.
HammLinks: Around The Web Today


File under, A link I'd like to read, but I'm afraid will keep me up at night.


File under, A link I'd like to read, but I'm afraid will keep me up at night for the next 20 days.


Okay, so the sports guy doesn't write columns anymore unless its about the NBA or its a Mailbag. But if you Follow his twittterings or listen to podcasts you get treated to some interesting links like 5 quick reads [ESPN inside subscription required]. The Proof of Concept Podcasts needs a regular guest like Jacko. I mean look, New York Magazine even treats him like an almost pseudo somebody. Apply here to be that guy or gal on the Proof of Concept! Calling the hotline gets you bonus points: 267-828-0112.


I may have to give this a shot. Methinks, I'll keep using good old iTunes.


Unfortunately I couldn't make it through to the end of this incredibly boring video on the worthlessness of our current gui systems to get excited about some sort of two handed portable multi-touch screen like interface.


Once again another Cub Scout is foiled in his attempt to get that rare coveted "Corkscrew a Classmate" merit badge.


I just skim for the cheerleaders, eagles game, and uninformed Al Gore bashings. I can't find anything on the Eagles here.


HammRadio.com's suggested On-Line listening Stations

Pows of the Day:


*** POW OF THE DAY ***

---
TAGS: