Further Review: Eric Bruntlett. Worst. Phillie. Ever. Or is He?
Last Modified

8/24/2009 5:13 PM

Story Summary

Eric Bruntlett. Worst. Phillie. Ever. I'll fight you if you don't think it's true. I might have to fight myself.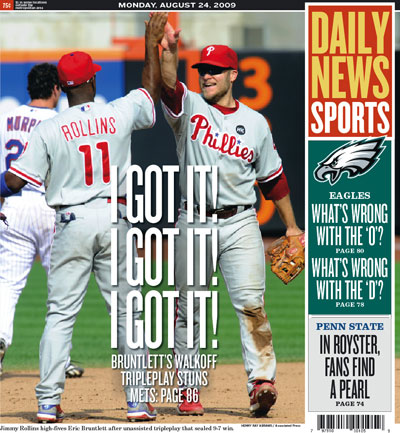 Contact Mike Cunningham at Mike (at) HammRadio.com
Eric Bruntlett. Worst. Phillie. Ever.
Okay. Maybe that's not true. I'm not sure. But certainly on Saturday night I offered to fist fight anyone in the room if they dared argue with me that Eric Bruntlett was NOT the worst Phillie in history. (Mind you I was at a birthday for my 82 year old grandmother.) Of course the next day, Eric Bruntlett was involved in a crazy day where his value as a Major Leaguer and a Phillie came into question nearly in EVERY inning.
I was on the golf course for most of Bruntlett's day on Sunday. He singled 3 times in the game. At this point I'm in the car driving to my buddy Scott's house after shooting 91 at a very soggy barely playable Riverwinds. But the top of the 9th it was all Bruntlett. He was robbed by Jeff Francouer as he stood on 3B waiting for the umpires to overturn the call. Fitting. Ends the inning. The bottom of the 9th featured the ever-shakey Brad Lidge. The return of a shakey 1B in Ryan Howard, who gave up a three base error to Angel Pagan. Following that, Bruntlett boots two balls, one ruled a single and scoring Pagan. Putting 2 men on, with nobody out. Then Jeff Francouer comes to the plate. And hits a line drive... well... let's let Scott Franzke call it (source: thefightins.com):
And now watch it as Tom McCarthy makes the call (source: thefightins.com):
An absolute stunner. As the rest of my foursome arrived at Scott's we walked out of the cars with the "Can You Believe It?" looks. We watched the highlights in the house. I said, "That has to be the first time in Major League History that an unassisted Triple Play ended a game." I was right. At least that's what CSN stated. Later on my way home I found out about the event in 1927. Which happened 3 months before my grandmother's who 82nd birthday we celebrated the night before, was born. An event where Eric Bruntlett's glove or ball or uniform, i'm sure will be sent to the Hall of Fame archives. The second un-assisted triple play in Phillies history (Mickey Morandini).
Worst Phillie in history? Should I take back my stance? Should I stop threatening family members with violence only to have it shoot back into my face? I won't back down! No matter what the various Facebook commenters said:
"What about Adam Eaton and his false sense of entitlement?" "Steve Jeltz" "David Bell" "Juan Bell" "Danny Tartabull" "Rheal Cormier".
My cousin Joey offered under threat on Saturday Jose Mesa. Damn him. I forgot about Mesa in my seething. Mesa who was so bad for the Phillies that during the Disclaimer message about batted balls leaving the field etc, would see his son booed. EVERY day. EVERY day. His SON! That's how bad Mesa was. How bad was he? I left a Phillies playoff game when Charlie Manuel brought him in to face the Colorado Rockies. I thought Manuel was doing this on purpose to me. I hated Jose Mesa that day.
But still, I can't back off on Bruntlett. But I'll waver slightly. He is having the WORST season in the history of Phillies History. How historic is it???
Here's what a wrote in a blog posting not quite published on August 13:
Today's Bruntlett Sucks reports shows his OPS+ at 4. Which is 38 all time among players with at least 98 PA. The Phillies bench coach Pete Mackanin had 98 PA with the Texas Rangers in 1973. His OPS+ -22. Good for 3rd all time. If Bruntlett continues to PA his ranking will change. We will be keeping at watch on it here. Our last check in with Bruntlett had his OPS+ at a whopping 1. Yes a 1. Major League Average is 100. Albert Pujols has a Ruthian season with a 195 OPS+. Ibanez is 10th in the majors with a 146 and Utley is right behind with a 145. Jimmy Rollins poor season has him at 84, despite his current torrid pace. What is OPS+? Here is a good article on the value or lack of value of OPS as a stat.
So where is Bruntlett at after his 3 point performance??? Well, he's trying to eat my words. THat's for sure. Because his OPS+ just climbed to 14. Which has earned him another start for the Phillies today. How does this season rank in Phillies history? Well, after a minimum of 104 PA, Bruntlett ranks 5th all time in Phillies historically bad seasons behind Ted Kazanski who's -9 OPS+ in 110 plate appearances is unparalleled. Of course, my minimum will continue to rise as Bruntlett gets more opportunities. Here is the TOP 5:

1 Ted Kazanski          -9   110 1954  20 .135 /.164/.183/.347 
2 Fritz Knothe          -1   120 1933  30 .150/.193/.168/.361 
3 Mark Parent            0   121 1997  35 .150/.198/.177/.375 
4 Joe Ward               3   139 1910  25 .145/.178/.177/.355 
5 Eric Bruntlett        14   104 2009  31 .154/.216/.220/.436 

Of course none of those guys hit home runs for the Phillies in a World Series game, as Bruntlett in Game 2. And they certainly never scored 2 Game Winning Runs for the Phillies in a World Series as Bruntlett did in Game 3 and Game 5. And none of them saw their OPS+ raise 11 points on a day they had an Unassisted Triple Play. So maybe I should give Bruntlett the benefit of the doubt?
Well, the story hasn't been fully written yet. To be continued
Update: Bruntlett went 1 for 4 today. Not sure what does to the old OPS. I expect it went up.
---
TAGS: