9 Thoughts From the Ball Park: Phils lose to Rockies 8 to 2.
Last Modified

9/12/2007 1:37 AM

Story Summary

The Phillies fall 2.5 games back of the Padres with an awful showing at the ball park. But I did get to sit in the bleachers when and saw the bell up close.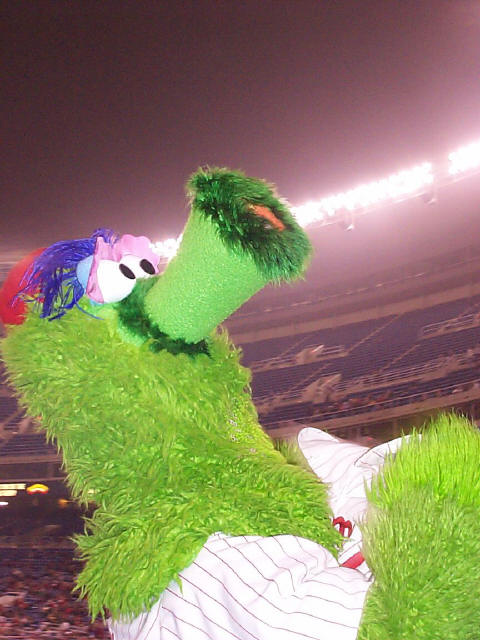 | Team | W | L | GB |
| --- | --- | --- | --- |
| Padres | 78 | 65 | -- |
| PHILLIES | 76 | 68 | 2.5 |
| Dodgers | 75 | 69 | 3.5 |
| Rockies | 75 | 69 | 3.5 |
Phils get to 1.5 games back of the Padres. And go out and get spanked by the Colorado Rockies. But after getting spanked, the Phillies are 2.5 games bank. It was an embarassing game as the Phillies only managed just 5 hits.
Let's see if I can get 9 thoughts out of this! [Box Score]
I decided to score the game in PEN! Only made two mistakes. If there was any game that needed documenting it was this one.
I like scoring games because it allows you to keep track of things like pitcher's strikeouts. Which god forbid the Phillies put on a scoreboard somewhere!
Adam Eaton didn't really pitch as BAD as he has in the past. Seriously. He really didn't I know he gave up the 3 homers, but really it wasn't that bad. If the Phillies offense wasn't missing it wouldn't have looked so bad.
My buddy Larry was at the game and he and I are playing each other in the Fantasy Playoffs. I have Matt Holliday. He has Todd Helton. Holliday went 2 for 4 with 2 HR, 3RBI and 3R. Helton 3 for 4 with 1 RBI and 2R. Score 1 for Cunny.
I missed Quizzo for this game. My Buddy Wayne texted me at 9pm after the Rockies scored 4 runs in the sixth and told me to give up on the game and come to Deuce. I should have listened.
Another friend of mine (Rini) was at the game and in the Rooftop Bleachers. So I went to visit her. She had a throwback road Schmidt jersey. I don't have one of those. If anyone wants to purchase one. You can look here at Amazon.com . Or buy one from FogDog. BUY ME ONE NOW!

I picked up my "Free" Phillies Media Guide for the year. Finally, with 2 days to spare. You can buy your own Phillies Media Guide though here:

Sitting in the Roof Top Bleachers is a weird feeling. Especially when Jimmy Rollins hits a home run and you get a weird shot of the bell.
Did I leave the game after this? Well, not too long after this. After Matt Holliday hit his second homer. I hate leaving games early.
---
TAGS: