Are the Phillies Buyers or Sellers? This Weekend Decides (or Not?)
Last Modified

7/21/2006 1:18 PM

Story Summary

So do you think the hot Braves will decide whether the Phillies are selling or buying? My guess is that the EVERYTHING MUST GO...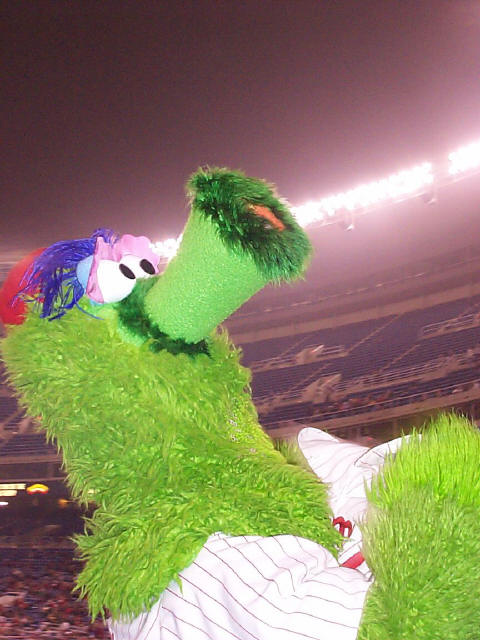 So the Atlanta Braves come to town this weekend, riding an incredible hot streak, winning 8 out of the last ten, supplanting the Phillies for 2nd place to the high flying Mets. Where did this come from you might ask? The Braves were dead weren't they?
We always talk about pitching wins, and the Braves were the testament, but it has been offense that has put Atlanta over the top. Over a 5 game stretch, the Braves scored 73 RUNS! The most since they were the Boston Beans in 1897 (78).
And now they Braves coming off an 8-3 loss to the Cardinals (you didn't think you last year's Cy Young Award Winner, Chris Carpenter would lay down did you?) to avoid a sweep, come to town RED HOT. And they will have a new closer in tow, Cleveland's Bob Wickman.
So you are asking yourself, with the Phillies just 5.5 games back in the Wild Card race, and the Braves now 4.5 games back? Who seems to be positioning themselves for a Wild Card run? Doesn't seem like the PHillies does it?
Sayonara???
Well, it is a long season, but you don't have to wait until the Trade Deadline to make deals? Lieber is back, but hasn't performed well enough. Wolf is set to return soon (so is Fasano). So is Pat Gillick going to start dealing?? According to Jayson Stark, the following Phillies could all be gone by the trade deadline:
Bobby Abreu -- 1. Mets 2. Yankees Other Interest: Tigers, Red Sox
Pat Burrell or David Dellucci
It's either Pat the Bat or David Dellucci. Although, there has been MILD interest in Pat from Baltimore, more interest is for Dellucci. Not that you would get MORE for Dellucci than Burrell. But you would be MORE likely to get more value. Which is different.
Tom Gordon
Don't need an aging closer, if you aren't in the race.
Jon Lieber and Cory Lidle
I've seen Lidle Pitch SO many games in the last 2 years. It always seems like his turn is up when I'm at the game. Right now, I'm scheduled to see Hamels on Sunday, Lidle on Wednesday, and Myers on Thursday.
Why would we do this? If you think Abreu and Burrell aren't clutch... Why would you want a guy who makes as much as Abreu and Burrell do combined, is worse than Bell in the field and whose numbers aren't that significantly better than Burrells are right now?
See I told you so!
HammLinks: Phillies Blogs
Philadelphia is home to the finest blogging in the nation, you can see that over at PhillyFuture.org But the Phillies have a loyal blogging fan base. Get to know these guys. If you see a blog that should be here, e-mail me at PhillySportsHQ at hammradio.com. If you are an owner of this blog, feel free to link to HammRadio.com or coming soon, PhillySportsHQ.com
Send us an e-mail if these links are out of date. We will try and update the order, based on posting frequency and quality.
Other Baseball Links and Blogs
---
TAGS: