HammRadio Today: 8/19/2008 --
Did I Inspire Campaign Cheer?
Last Modified

8/19/2008 5:53 PM

Story Summary

Campaign Cheer will hit Citizens Bank park tonight. And yours truly HammRadio had a little to do with it. No, really, I swear.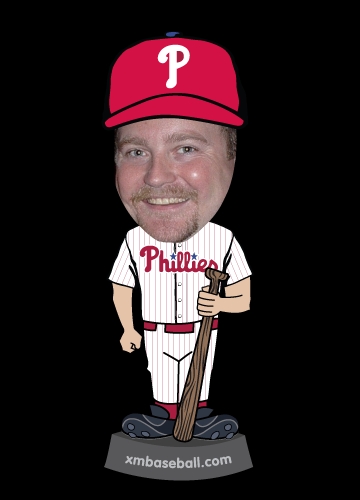 Tonight before the Phillies take on the lowly Nationals, Carson from We Should Be GMs will be handing out flyers signaling fans to cheer for the Phillies even if there's an error or a strikeout. Why? "The boos are obviously not working." My thoughts exactly.
The campaign obviously was generated because of the furor over Jimmy Rollins comments, mistakenly calling Phillies fans "front runners." A poor choice of words, but his message was clear. Phillies fans boo and it hurts. It doesn't help. Now, Carson is a regular poster over a Beerleaguer.com run by the great Jason Weitzel. Carson has been typically one of the most negative commentors. So much so that even he and I tangled once, that was so heated we took it "outside" over email. At the end of our tangle we shook hands and we were treated to a kinder-gentler Carson. I feel that in someway I helped inspire his transformation.
On the Friday after Rollins comments, I wrote that Phillies were perhaps the blame for the lack of championships. Later, in that same posting, a beerleaguer reader named Mr. Mack (another of my adversaries) thought of an idea:
Stun everyone with a rousing ovation for the Boys of Summer when they take the field, no matter how the road trip ends up, letting them know that we are behind them from here on out through thick & thin.
Over at Beerleaguer, I had been criticized for "Sanctimonious" optimistic postings, where some had argued that I might have been a front office shill. So this campaign is right up my alley. And perhaps it is for some others.
Carson ran with this idea and ballooned to where he was contacted by the Phillies, ESPN 950 and WIP. He's a juggernaut. "Campaign Cheer" he would admit started out with a tinge of sarcasm, but inspired by the response, Carson is ready to "Chug from the Glass Half Full."
Well, Cheers Carson! I can't join you at the game tonight. But good luck all the same. I'll be watching. And I hope the Phillies fans respond in kind.
HammLinks: Around The Web Today
It's good to see an AMERICAN born American win a gold medal finally. :) Just kidding.
Well I guess I have to sign up to find out.
18. WWW has never stood for World Wide Wrestling.
Here's why this statement makes no sense. Few people every used WWW to stand for World Wide Wrestling. "World Wide Wrestling" was the syndicated program for the Jim Crockett Promotions NWA. There's no way this invaded popular culture. Now, I know what they really talking about the World-Wide Wrestling Federation (WWWF) the precursor to the World Wrestling Federation (WWF) which was the precursor to World Wrestling Entertainment (WWE).
Look who else is in the discussion.
Morbid tribute probably.
HammRadio.com's suggested On-Line listening Stations

Pows of the Day:


Nada Surf "Whose Authority" (Live on Jonesy) Indie 103.1
*** POW OF THE DAY ***

My Daily Spot
I keep forgetting to put this new feature on the site as a blogroll somewhere. But I wanted to give you a peek into some of the links I check out daily/regulary. I call it "My Daily Spot".
My Daily Spot

General News

PORTALS

SEARCH
---
TAGS: