Clash Wednesday -- Joe Strummer meets the Pogues St Patrick's Day 1988
Last Modified

3/25/2009 5:36 PM

Story Summary

This week on Clash Wednesday, Joe Strummer joins the Pogues for a St. Patrick's Day in 1988. A little out of breath it seems. Or drunk. Not sure.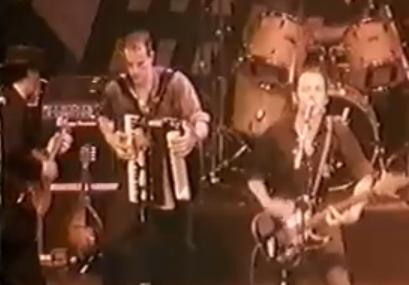 Every Wednesday at hammradio.com will be Clash Wednesday. We will feature a clip or a song or perhaps even an entire Proof of Concept podcast about The Clash. Or maybe it will be completely something unrelated to The Clash, that I will somehow relate BACK to the Clash. Or like most other features on hammradio.com, fall by the wayside never to be heard from again for 2 years, when I say... "oh yeah remember I used to do the Sunday Night QB?" or "Monday Night Wars" is back!
This clip might have been more appropriate last week after St. Patrick's Day. But I just found, do you want to fight about it? The song doesn't have the raw power of the original. (See Below) And oddly enough, Strummer seems OUT of breath during the song.
---
TAGS: