Charlie Manuel Quote of the Day -- Video Special!!!
Last Modified

4/18/2007 3:39 PM

Story Summary

Charlie Manuel Quote of the Day: Well, the Phillies are 1-6 to start the season. And are on the brink of their worst start since the Felske-era. But Uncle Cholly is still positive.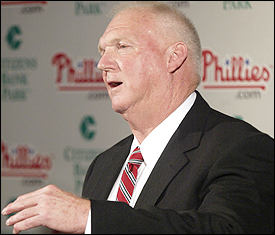 Charlie Manuel Quote of the Day

Is this the kind of blow up that will change the way the team has been hitting? Is this the make or break moment of the Phillies year??? If the Phillies turn it around and win the pennant, does Eskin get a ring??? Here's the video of the incident, thanks The700Level. Check out the Beerleaguer for a detailed account of what he calls CHOLLYGATE. :
"I can show you I can get angry," said Manuel, who has been heavily criticized by Eskin for his managerial skills and southern slang. "Why don't you come on by my office?"
Yup, that's our manager! And today... I'm kind of proud. I was feeling much the same last night, and I wanted to fight too. But unfortunately, it was Mets fans that drew my ire!
---
---


-- Mike Cunningham, HammRadio.com
---
TAGS: