Make your own Jell-O Pudding Pops
Last Modified

4/27/2004 4:36 PM

Story Summary

Here is a recipe to make your own Jell-O Pudding Pops.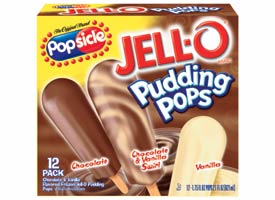 Recipe for Pudding Pops
Thanks Chef Andy
2 cups cold milk
1 package (4-serving size) Jell-O Instant Pudding and Pie Mix
6 (5-oz) paper cups
6 popsicle sticks
Beat pudding mix and milk together, at least two minutes.
Spoon into cups. Insert popsicle stick in center of each cup.
Freeze 5 hours (or overnight). To remove pop from cup, place bottom of cup in warm water for 15 seconds. Press firmly on bottom of cup and push pop out. Don't pull on the popsicle stick.
---
TAGS: