Charlie Manuel Quote of the Day
Last Modified

6/22/2005 2:06 PM

Story Summary

Charlie Manuel Quote of the Day: So Utley is NOW your every day second baseman. And Manuel NEVER had to make the decision about who his every day player was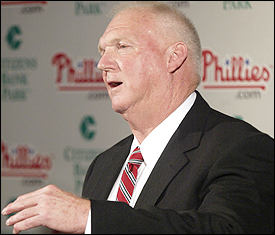 Charlie Manuel Quote of the Day

So Utley is NOW your every day second baseman. And Manuel NEVER had to make the decision about who his every day player was. Ed Wade did it for him. Here's how Manuel FEELS about Utley and how uh... baseball may feel about him?:
"Let me tell you something," Manuel said. "If he keeps the same attitude he has now, he's going to be a hell of a player. Baseball is going to like him, too."
Yup, that's our manager!


-- Mike Cunningham, HammRadio.com
---
TAGS: