HammRadio Today: 01/21/2005
Last Modified

1/21/2005 6:45 PM

Story Summary

There are omens and then there are omens. Buy 2004 Conference Champion Hats NOW!!! Reverse the Curse, Buy Both?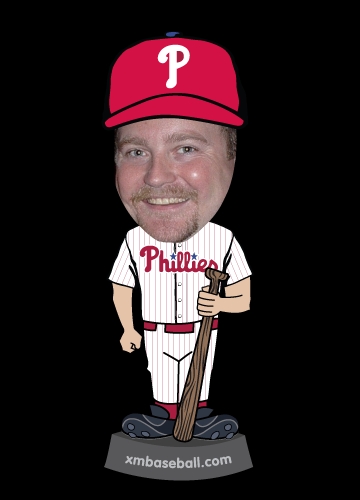 There are omens and then there are omens. I go to one of my affiliates to look for some Eagles apparel. And what do I find prominently displayed on the Eagles site? This: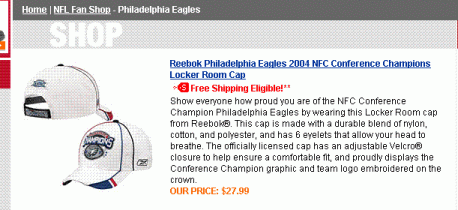 Now they warn you with the following: Please note: This product is an advanced sale item. If your team wins, this product will ship to you in 5 to 7 days after the game. If your team does not win, your order will be automatically cancelled and you will not be charged.
So you can imagine, I was quite spooked. Did I just jinx this whole thing? Does FogDog know something I don't know? So I did some more research and found this: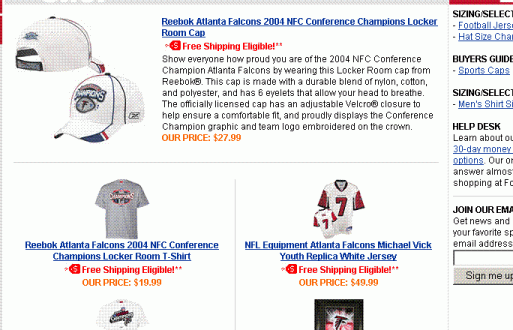 As any Eagles fan would do, I bought both. Just to be safe. Don't forget to Believe!
It's Football Friday and the Frenzy is HEATING up folks. Here are some articles to get the heart rate going!
HammLinks: Around The Web Today
So it looks like Bill Cosby is in the news again. Probably the most famous Philadelphian is making noise on the eve of one of the most important games. See this is what happens when they Bring Back the wrong Pudding Pops. But GOOD news for Temple as they join Ben Rothlesberger's Old Conference. This Should give Temple a better profile, because, they will start winning ball games. And winning is most important right?
---
TAGS: