Charlie Manuel Quote of the Day -- Special Guest Star: Shane Victorino
Last Modified

4/19/2007 11:06 AM

Story Summary

Charlie Manuel Quote of the Day: The Phillies are 3-10. Lose to the lowly Nationals in Extra Innings. Brett Myers in the bullpen. And Shane Victorino chimes in.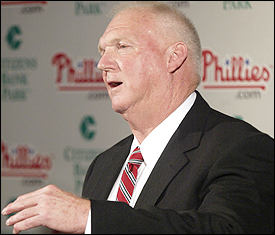 Charlie Manuel Quote of the Day

I'm going to give Charlie Manuel a break today. He wore a hat to commemorate the Virginia Tech community last night. Charlie is a good guy overall. He's been under the microscope since day one and has always been positive. EVEN if it is to call out Howard Eskin. After losing to the Nationals in Extra Innings and falling to 3-10 on the season, we'll go to Shan-o Victorino for today's quote:
"Everything is bitter around here." -- Philadelphia's Shane Victorino.
Yikes! I hope there's more to that?
"Sometimes you'd rather just walk out there and lose by 15 and walk off the field in the ninth. It's so frustrating. We're one hit away, we're one pitch away. It seems like we're one thing away from doing what we need to do, and it's just not falling into place."
Whew, that makes me feel better. When I say better, I mean worse. Yup, That's our Right Fielder.
---
---


-- Mike Cunningham, HammRadio.com
---
TAGS: